All things BOOZE
Thanks for the reminder T! I was so busy pushing out a 4'+ snow drift that placed itself almost all the way on my driveway, and I have a circular driveway. I haven't figured out how that happened and I have lived here for over 30 years. I also plowed out some of my fenced in area for the dogs, I forgot all about Fat Tuesday. Fortunately I have a winters supply in stock. I will just up the quality to an 18 year old Pappy for the first one tonight.  🤯 They are calling for another snow event on Thursday here. That made me push back the snow more in case it gets bad again. need room to pile it up. 😡 
Blown, it is like lift, only bigger, better, longer, stronger, harder... and that's just the car. The first Rotrex supercharged 2zz Spyder.
Posted : February 16, 2021 7:30 pm
Happy fat tuesday folks in celebration besides my tasty king cake I present to you the kit of kits local resultant made up a nice Sazerac kit. Looking forward to heading home and making one or three 

 
Looks good.
Funny, but related story.  On my home desktop (NASA computer) each one of my drives is named after a whisky drink.  It was the only clever way of keeping track of what drives were what, with a long enough list for future drives.  It also explains my username, and why T-Bone made this thread for me.
Highball, Sazerac, Pickle, Sour, and Manhattan are my current drive names.
My PC is named SCOTCH on the network, my laptop is named WHISKEY.
Strangely enough, my favorite whiskey drink is the least appealing:  cheap and served neat.  Glenlivet and Jim Beam end up being drank the same way with me.
This post was modified 1 year ago by
scotched
Posted : February 17, 2021 12:48 am
Glenlivet and Jim Beam end up being drank the same way with me.
I am lazy by nature so I do mostly neat pours (a bit of water with my barrel proof bottles North of 120) 90-100 is my sweat spot for enjoyment without pallet burning 
here is a recent brown liquor assessment, not very found of scotch. used to drink when younger but lost a tase for it once my bourbon collection grew to many liters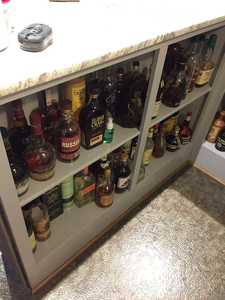 Topic starter
Posted : February 17, 2021 12:14 pm
Is that.... Chambord and Grand Marnier?

Hi Dad.
LOL yes. Best date drink is called a nuts and berries. equal parts Chamord, Frangelico, and bush mills irish cream (better than bailies). Shake and a shaker with ice until your hands hurt too much from cold and serve in a martini glass after the second add some vodka its the bomb for dates
Topic starter
Posted : February 18, 2021 6:21 pm
I'm not front-brained enough to keep a nice liquor cabinet.  When I was a young teenager I remember trying out the various sweet liquors (Chambord, GM, Kahlua etc.) in my Dad's liquor cabinet thinking, who drinks this stuff?  Didn't know it was for mixing at the time.
The peak of my college date mixing game was equal parts "Hpnotiq" and Hennessey.  It's called the Incredible Hulk.  It's incredibly expensive and incredibly reckless to have more than a few.  Those were some good times though.  If I ever drink that again it'll take me right back into time.  
Posted : February 20, 2021 12:25 am