I got to drive a Lamborghini Huracán around the track at PBIR
BottlefedMR2 was in town and instructs with Xtreme Xperience and invited me to drive up to PBIR (Palm Beach International Raceway) and got me setup in a Lambo.  In short, it was awesome.  Riding in the car as a passenger is nearly frightening because of just how beastly that car is.  I was a bit unsure of how confident I would be while driving.  However, after the second or third turn, that car just felt like an extension of my body (if my body was more like an athlete and less like ... well mine.  hahaha).  The car just did exactly what I wanted it to and when I wanted to do it.  All of the cars they have are regular exotic cars as they came when bought new.  There were no governors on them or instructor brake or any additional stuff.  Just "normal" Lambo's and Ferrari's that we are all used to.  hahaha.
I got do drive 3 laps, and passed a slower Porsche driver at the start of the second lap.  Oh.  And all threads are useless without pics, so here's one of me in the car at the very end of my run: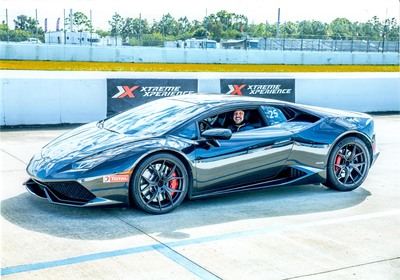 Oh, and here are several pics in succession that you might also call a video.
Here's a link to the company that does these events if any of you guys are interested.  Say hi to Brandon if you go.
https://www.thextremexperience.com/
In case you couldn't tell, I had a killer time.  Big thanks to BottlefedMR2 for this experience.
Topic starter
Posted : November 24, 2019 10:17 am
That looks awesome. I would have been nervous as hell on that first lap. I did not realize that at those speeds you need to anticipate the turns REALLY EARLY !!
Posted : November 24, 2019 10:42 am
haha.  yep.  I could have gone a bit further and broke harder, but the event wasn't really a race, but more of an experience.  So I also didn't want to wreck a car that I would need to take out a mortgage on to pay off.  haha.
Topic starter
Posted : November 24, 2019 4:11 pm
That's excellent! I wouldn't want to own any of those cars (and clearly I couldn't afford any of them), but I would like to try one of those 'experience days' where you get to try a few high end cars like that. That must have been a blast. The closest I came (and it's no contest, more of a brute experience) is when the Mrs. bought me track time at Pocono Raceway years ago for my birthday. It was a tube car (NASCAR type that was detuned with VMax of ~170 mph on a trioval of 2.5 miles) and I drove 20 miles worth- great experience...very loud and harsh, but nice and fast, just not refined like the Huracan.
Posted : November 24, 2019 4:25 pm
Here in So Cal (Carson, Ca.) we have the Porsche Experience. I can't  wait to try it out. I figure if I can handle a 911 and a Boxster I should be able to handle our Spyder. Then again, my GrandMa  drives more aggressively than me 😀 .
Posted : November 24, 2019 7:13 pm
Thanks for sharing the thrill with us.  I really enjoyed watching the video.  Congrats on a great day.
Posted : November 25, 2019 1:15 am
Yep.  I'm still smiling from the thrill.  It reminded me of my first autocross.  Only, I was still taking in all of the different cool things of the day.  haha.  I really need to get my car projects back on track this winter while it's not so hot outside and get back to some autocross action in the Mister Two.
Topic starter
Posted : November 25, 2019 7:49 pm
Looks like it was a damn good time.
I always wanted to do one of those types of events but never do it.
Got to talking to some random guy at COTA who loaned me his Radical car to take around the track. Instantly hooked on racing. Thus started my getting a wrecking yard bound Spyder to build for road racing.
Posted : December 4, 2019 8:55 am