I made a good bit of progress in the interior of my car this past weekend.  I have all wires that will be running from the rear to the front all bundled up and secured.  And I installed my radio since I had all the stuff there.  And since the radio was in, I was finally able to install the new HVAC knobs that I bought ages ago.  This will be the first time I got to see my Tak-Rings in action too.  And I may be a bit biased, but WOW!  They really work so well and fit perfectly!
OK OK ...  Enough yapping.  Here is a pic of the installed products.  Keep in mind that this pic was taken during the middle of the wiring process.  So try not to pay too much attention to the rest of the areas of the car.  hahaha.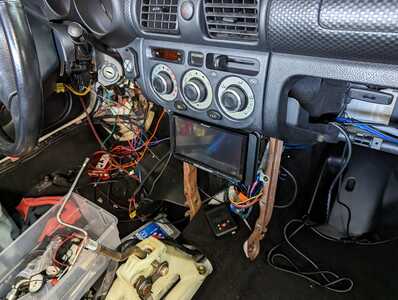 One thing the new knobs really points out is that I need to do something about the yellowing of some of the white plastic bits near those controls.  They are really showing their age.  🙁
Topic starter
Posted : November 14, 2022 10:07 am
haha.  Thanks!
If it wasn't such a PITA to remove those two tower bar things (even with all that other stuff out of the way), I would have sanded and then painted them since they are so oxidized.  Similar to the metal piece under the steering wheel.  I suppose I could have painted that, but ... I didn't.  🙁
Topic starter
Posted : November 15, 2022 10:18 am
It's called "patina" nowadays.  Wear the rusty proudly. 
I make Amateur Armrests - see the Commercial Forum. I also have SMT repair seals available.
Posted : November 16, 2022 1:12 am