My Amplifiers and Subwoofer Setup
This post was originally in my engine swap extravaganza thread, but I thought it would be appropriate here.  I'll likely continue this thread with some more stuff regarding the HU and other setup (wires, etc).
Original Post:
OK.  I found them!  This project has gone on for so long that remembering WHEN I did something is getting more and more difficult.  I've had this whole rig setup and ready to go in for several months.  When I do the YouTube video with it though, it will seem like I am doing it at the same time as installation.  hahaha.  Movie Magic FTW!!!
Anyway, here are some pics of the setup.  All Pics are simply mock ups.  The final version is convered in trunk carpet and looks like the above pictures.  I'll list some details below the pics...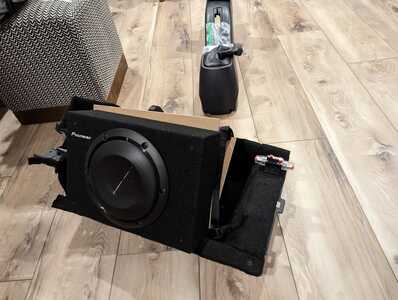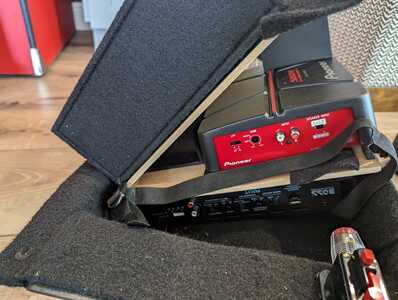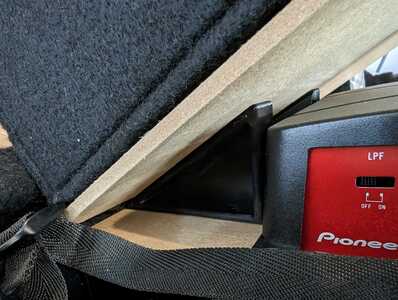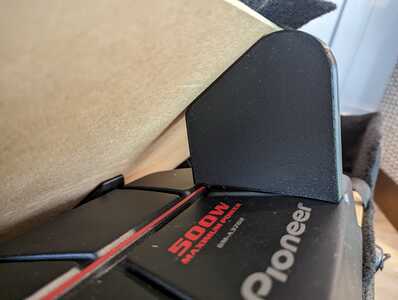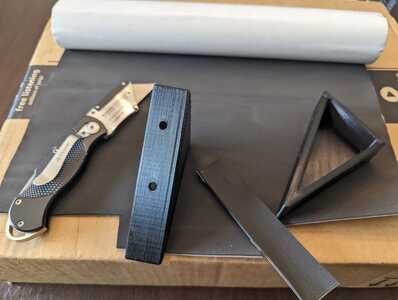 This was a combination of MDF "sheets" that I got on amazon that were the perfect size for this project and some 3D Printing and CAD work.  There are 2 loser brace/brackets that form the wedge.  There are holes that I'm bolting to the upper MDF and the lower portion is attached with heavy duty push-in clips.  The upper brace/bracket is bolted to the upper MDF sheet and rests on top of the Pioneer amp and fits directly into the grooves and follows the contour perfectly.  I have some dense foam padding all around the brace pieces.  The whole rig makes use of 2x MDF sheets.  The Amplifiers are bolted to it.  THe one that is mostly out of view is the amp for the subwoofer.  The Pioneer amp is for the regular speakers.  This also makes my stereo setup look like it all matches (Pioneer HU, Sub, Amp).  So that works out well too.
It may be hard to tell from the photo, but the bare MDF was carpeted.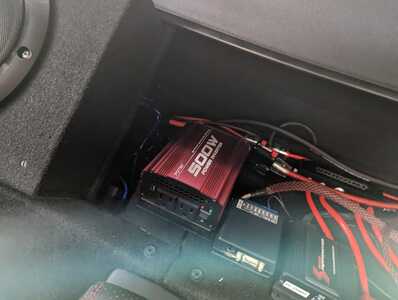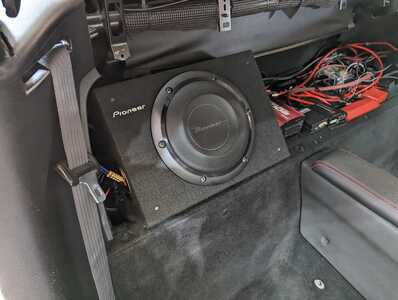 I would share this design, but it is really bespoke to my exact setup.  I doubt it is universal enough to work on everyone's car and products.
Anyway, Thanks for looking.  🙂
Topic starter
Posted : May 4, 2023 10:19 am
bespoke and custom is the best way to describe more unique set ups. Thanks for sharing. 
 The problem I have is once I bought a downpipe it increased the exhaust noise  especially with a passenger side and transmission side poly mount resonance that set off a frequency that was competing with the small subwoofer set up I had. I have since replaced the passenger mount with a new OEM and it helped a lot.
I have installed the new little subwoofer that packs a punch. It is very good for what it is and I am still tuning it but I need a little more headroom so I plan to get another one so it doesnt have to work so hard and sound effortless.  One is now in the passenger well and I think adding one in the rear storage area on the drivers side should even out the bass response nicely being on opposite corners. I should lay it flat so it's non directional.  
Posted : May 4, 2023 12:40 pm
Hey Dev. What was the new subwoofer you purchased? Got pictures of it or the install?
This post was modified 1 month ago by
mrsponz
Posted : May 4, 2023 3:04 pm
I will try and get picture for you.  It is an Infinity BassLink Mini.  It uses a 6x8" driver in a sold aluminum case. For its size it has incredible output to fill out the bottom end but unlike a lot of large woofers its tight fast moving bass that is clean which makes it musical. I do not like boomy muddy reverberating bass that you find with most larger woofers. It does not have the output of a 10 or 12 but I think it's better than a lot of 8" woofers I have heard that use larger boxes.  I have very expensive components particularly the mid driver so these complement the mid bass rumble. 
Infinity and JBL are part of the Harman group so JBL has something that looks almost like it but smaller with the same guts they call the Basspro nano. If I feel I need another one I will probably get the JBL. 
Posted : May 4, 2023 6:50 pm
Here is a picture of the Basslink Mini. The JBL Nano which shares the same guts is even smaller. If I get the Nano I will be placing it in this location because the inputs are on the other end facing the firewall so all the wires will be hidden. This will probably go behind me in the rear storage area. I do not like using the location because it's not ideal for bass because it needs to blend into the system but I think if I fire it upwards it will be non directional.   What I like about these small subs is making the mid bass driver in the doors sound more powerful than the typical subwoofer resonance sound that is usually not musical.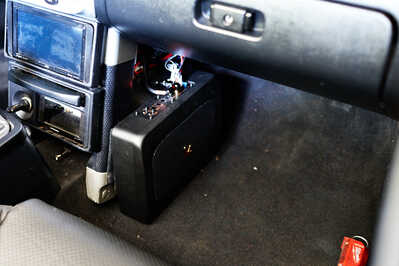 Posted : May 5, 2023 4:10 pm
Hey Dev. Thanks for the info and photo. Same location as original. Would you say it's small and thin enough to fit flat against the firewall in that same footwell? Maybe up high? I don't have a lot of passengers who are all that tall.
Posted : May 7, 2023 4:18 pm
Posted : May 7, 2023 6:54 pm
Having the sub behind you would likely work well.  I used to have a bazooka tube in the back and it added that much needed "punch" that you mentioned.  I still haven't heard my setup yet, but I'm hoping for good results.  You may be able to design and 3D print a small shroud to cover the wires as well and have them mostly hidden.  I'm goign to be trying to work on something similar for my spaghetti mess of vacuum hoses and wires behind the driver's seat.
Topic starter
Posted : May 8, 2023 1:48 pm
  I finally had a test of my system and it needs some slight tuning but I can finally hear the bass over the exhaust.  This little sub punches clean and is more like a sound quality subwoofer which is enhancing the door mid driver. It does have a slight low frequency ambiance which is just enough. I think with two it would be powerful and hit hard. This little thing is revolutionary in terms of footprint and bass output. I could still push it but then the bass becomes imbalanced so the only solution for more punch is two. 
I also decided to return the Infinity in favor of the JBL because the way the wires will be hidden from the firewall side than on top. Im also thinking of changing the position of the subwoofer and place it right in the passenger foot well than its side. I want to test the bass response as they say the footwell area although reduces bass output is more transient and tighter.  I never had this freedom before because the other powered subs were too large. 
Posted : May 8, 2023 5:48 pm
I'm curious to see what you end up going with.  I won't likely have any updates until after Memorial Day weekend due to scheduling conflicts the next 2 weekends.  But, man, I'm close to being complete (at least physically) with my MVP project.  I'll be sure to post how the sound turned out once I'm at that stage.
Topic starter
Posted : May 8, 2023 10:02 pm
I'm curious to see what you end up going with.  I won't likely have any updates until after Memorial Day weekend due to scheduling conflicts the next 2 weekends.  But, man, I'm close to being complete (at least physically) with my MVP project.  I'll be sure to post how the sound turned out once I'm at that stage.
 Pease do I would like to know how it sounds. 
 I decided to keep the infinity sub also. I think it would be perfect behind me in the storage cabin. The problem I fear is having the subwoofer too close to me and become directional which ruins the staging. If I set the crossover frequency low enough at around 50hz and turn it down I think it might work.  Also keep the sub pointed upwards could also help with that.  Too bad they dont fit under the seats. 
Posted : May 9, 2023 10:06 am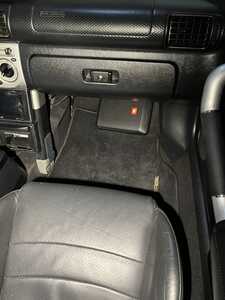 I installed the JBL version. It has essentially the same guts and woofer as the Infinity  but it's in a smaller package. This thing is small but is also heavy. 
  I dialed it in to exactly the same gains as the Infinity BassLink mini. Hook up was easy since it uses the same plug. 
I first had it in the same location on its side and I was thinking that it would be slightly worse but it was actually better. It was filling in some voids the other one had. 
It was still at the same db as the other one but just sounded better. At that point I decided I will be returning the Infinity and buying another JBL for the rear compartment.  
 I then rotated the subwoofer towards the  firewall as mrsponz suggested as you see it now. OMG it got much louder and stronger. It thumps to where you can feel it.  I am in disbelief as it feels like a 10" subwoofer in a bigger sealed box.  
 I have been in audio for a long time to know that when it comes to subwoofers bigger is generally better. I have also been around a lot of small sub solutions and most are poor but do what is required but this is just fantastic.  
 I think what has happened is the passenger footwell is acting like a sub enclosure reflecting bass waves towards the glovebox and increasing the db.  The bass still sounds clean and bright but it goes lower. 
I sat in the passenger space and I did not find it uncomfortable. If your passenger wants to stretch their legs out then maybe it would be a problem but I did not find the normal leg position to touch the subwoofer.  
I am very happy I do not need another one because I can save money and its less weight.  
Posted : May 9, 2023 5:25 pm
Wow. I'm glad that is working out. So no need for two ??
Now, I may need to come up with some kind of Lotus Elise "stealth footrest" for the passenger !!
Posted : May 9, 2023 8:49 pm
Wow. I'm glad that is working out. So no need for two ??

Now, I may need to come up with some kind of Lotus Elise "stealth footrest" for the passenger !!
I don't think I need another one. With the new placement it is acoustically better and if I had two I would half to  turn both of them down to balance it out anyway so it ends up being an additional 8lbs of weight saved in an already light weight car but I need quality audio because it goes hand in hand with driving. 
Im more of a sound quality audio guy where quality of bass is more important than quantity so its not going to shake the mirror but this is the first time I actually felt the bass from a small subwoofer. I think the passenger foot well  has to be the sweet spot on this car.  
If you get this sub and place it in the same location I don't think you will be disappointed. 
Posted : May 10, 2023 1:39 am
You could use one of my LT Kick Panels (I will be making more of them in the near future.  But they will be an updated version.  Anyway, that positioning looks great.
Topic starter
Posted : May 10, 2023 1:47 pm