2003 1D0 Silver MT for sale in Fresno, California
This is not my car.  I just went and took a look at it this morning and am posting it here for the fellow who is selling it.  Sign says it has 97k miles on it.  Family selling the car reported they are the 2nd owners and that it came from the 1st owner with the rear wing spoiler and it was reported to them that the wing was installed at the dealership.  Considering the miles on the car, it presented pretty well.  It seems to me the clutch needs some work and probably replacing, but overall it was a clean car.  The soft top was replaced sometime in the last couple of years.  The vinyl seems thicker to me than the OEM and has ears.  Owner reported to me that there was damage to the rear bumper cover in an accident but that damage was only cosmetic and was repaired by replacing the rear bumper cover.   Here are some pictures: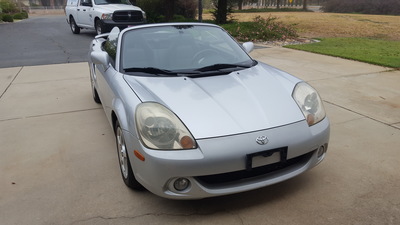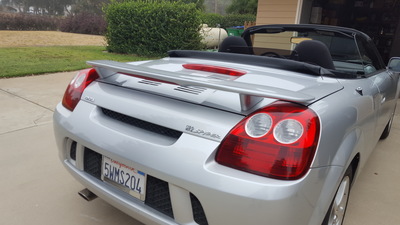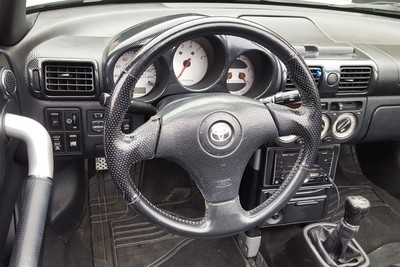 If you are interested in this car, please send me a PM and I will help in connecting you to the seller.  Like I said, this is not my car and I just met the seller today (10/20/19), so I don't know much more about the car than what I have posted here.  Owner is considering keeping the car, which I encouraged. 
Posted : October 20, 2019 5:42 pm
Posted : October 21, 2019 8:31 pm
Hi KaM.  The for sale sign says $6400 OBO. When I asked him how low he would go be said "in the fives".
Posted : October 22, 2019 2:04 am
Hey, is this still available? I am interested. I am located in Fresno and am currently in the market for an mr2 spyder. I'd pm you, but I can't as I am new to the forum.
This post was modified 2 years ago 2 times by
Mr2yaj
Posted : April 9, 2020 11:31 am
Yes. I just checked with the seller and he reported it is still available for sale.  I will send you a PM that has his phone number. 
Posted : April 9, 2020 6:27 pm
Thank you. Just texted him.
Posted : April 10, 2020 5:14 am
If and when you are able to pick-up a Spyder of your own, please check-back in and post some pictures.  Also, there are a bunch of people here who have a wealth of information about these cars and are willing to share their years of knowledge and wisdom with other members of this community, so if you have questions about what to look for when making your purchase, feel free to ask.  Personally, I am not knowledgeable about mechanical issues, but there are a bunch of folks here who are.
Once again, welcome to MR2-Spyder.com and the land of permagrin. 
Posted : April 10, 2020 3:18 pm
Posted : June 8, 2020 11:42 pm
I believe it is.  I will send you a pm with the sellers phone number. 
Posted : June 9, 2020 7:44 pm
The car is already sold. I've already contacted the the owner previously when he put up a Craigslist ad for $5400.
Thanks anyway Uncle Mush.
Posted : June 10, 2020 12:10 am
Thanks for the update and I apologize for inaccurate intell.  I saw the ad up on another site earlier this week,  so I assumed it was still up for sale. 
Posted : June 10, 2020 4:12 pm