End of Summer MR2 BBQ
We're doing another one! Please, if you couldn't make it to the one in august, we'd love to see you at this one!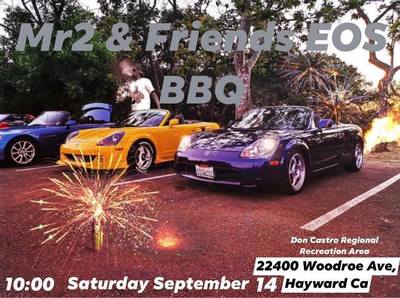 Topic starter
Posted : August 23, 2019 6:20 pm
 Thanks NorCal friends for making this one happen.   I'm going to try to make this one.  
Posted : August 24, 2019 2:03 am
 . .  just bumping this to the top in case anyone new here, who is on the Left Coast, was not aware of it.  My grandson and I plan to drive three hours on Saturday morning to attend this important event.  
Posted : September 13, 2019 12:48 am
Those who do attend, don't forget to bring a crisp $5 bill for the park entrance! This isn't for us, this is for the park itself. But we did get a reserved spot and a beer and wine license so if you want to help offset those costs, bring some food and drink! 
2000 Toyota MR2 Spyder, 2020 Mazda 3 Hatchback 6MT
Posted : September 13, 2019 1:41 am