Need recommendation for OE vinyl top repair, (sticky goo)
Ack! Just discovered a pinhole in The Frog's top! What's an effective patch?
This is a sad day for The Frog...
🐸, 2003, Electric Green Mica
Topic starter
Posted : September 21, 2019 6:34 pm
1) put the top down
2) don't drive in the rain 😊 sorry.
Some people have had luck with shoo-goo, others with plastic-dip. I think I remember something in the old SC. Good luck.
Posted : September 21, 2019 10:13 pm
I've been playing with 3m window weld. I glued my back glass completely after it fell out.   I'm pretty impressed with the stuff.   I'm planning to do some repairs on my daughters aging ragtop.   I'm thinking of making an internal patch using a scrap of vinyl, and window weld for adhesive.
I make Amateur Armrests - see the Commercial Forum. I also have SMT repair seals available.
Posted : September 21, 2019 11:06 pm
I just did 2 patches, one yesterday, one today and hopefully one tomorrow using the shoe goo. I've done several others through the years.  For the pin holes, i use a round maybe   1.5" piece of material then sandwich between two magnets to hold overnight.
If i needed to replace the window, I'd try the window weld that Paul suggested. I don't think the shoe goo would work on glass.
Posted : September 22, 2019 4:07 am
I have been impressed with Shoe goo.  I also made a patch on one of the corners and its held up great for many years.  It also works great on old shoes. 
Posted : September 22, 2019 11:57 am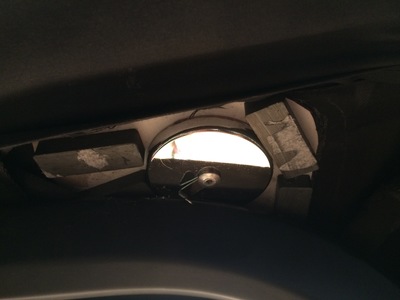 Here's a larger patch with materials used. I use a popsicle stick to spread a thin uniform coating and work quickly to apply the patch before the surface dries. Oh, and i use thin cardboard on each side to keep from leaving impressions from the magnets. And another thing,  i leave the top loose when applying patch so that the top and patch are stretched evenly. It may be better to stretch the top then apply patch but I haven't tried that. 
This post was modified 4 years ago 3 times by
suoiruc
Posted : September 22, 2019 5:10 pm
What is the stuff? Is it like ye olde rubber cement? Is it clear or colored, and if colored, what color matches that top?
🐸, 2003, Electric Green Mica
Topic starter
Posted : September 22, 2019 8:32 pm
Not like rubber cement. It's clear so it works on any top. Ive used it on a black top as well. It's pretty tough stuff; imagine the punishment shoes get; somewhat flexible. Costs $5 at walmart. I started off repairing my shoes with it because it works on a lot of materials and is water proof. I finished my third repair today, about 2.5" round patch this time, for the areas not quite through, where metal rubbed off the non- vinyl part. The patch material is not vinyl either but that may work just the same.
This post was modified 4 years ago by
suoiruc
Posted : September 22, 2019 10:41 pm
Thanks everyone. So, do i just put a coating or five (per instructions), on the surface, or do I also need a patch piece?
Its a very small hole, might just be black layer underneath the vinyl coating, hard to see. But, yes, right there above the rib, about where souiruc has in his image.
Hoping i dont need a patch for such a tiny thing, but Ive nevercdone this sort of thing.
🐸, 2003, Electric Green Mica
Topic starter
Posted : September 23, 2019 7:35 am
I was hoping I would not have to use reinforcing material on the inside. The weak spot is right on top of the rear rib, might not be able to get at it.
Anyway, I was hoping for one of those modern miracle products that I could just paint on the outside. Pipedream? There was a post on the other forum mentioning a product called Liquitex. The poster implied that you could basically paint the entire top with it. He stated that if you painted cloth, you would essentially be making pleather. Maybe I can just use sone of that rhino truck bed liner stuff, lol.
I did find some clear Shoe Goo, and I do have some leather and/or pleather scraps I could use on the inside if necessary. I patched a few bicycle innertubes in my youth, so am familiar with basic concepts, but this is different... this is The Frog, man! (Yer killing me, The Frog... just killin' me).
Now, is a clear spot of Shoe Goo going to look disgusting on the,outside of my tan top? Is there a kit with appropriately-colored goo? I am doubtful, but will any old vinyl and leather repair kit do?
🐸, 2003, Electric Green Mica
Topic starter
Posted : September 23, 2019 3:23 pm
I have tried many of the off the shelf products that claim to fix the top tear and they all fall  apart once you use the top or they just wither away in time.  
There is one product that is proven to work which I have with me but I haven't tried it yet because my shoe goo repair is good enough since Im always driving with the top down. 
https://www.amazon.co.uk/CABRIODOC-Convertible-Fabric-Repair-Brands/dp/B00MISZVYC
Its very hard to get but its possible if you search long enough you might find a source for it. Maybe one day I will use it.  
Posted : September 23, 2019 3:47 pm
Some pics: location, and best I can get of the hole/thin spot.
Notice to the left of the hole it looks weakened too. It feels pretty thin there.
Yes, I know what this means. But I'd like to postpone the inevitable with as much class and dignity as possible. Will ask for top replacement info in a year or two.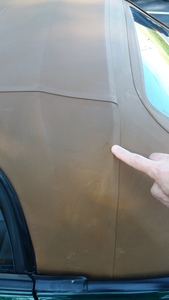 🐸, 2003, Electric Green Mica
Topic starter
Posted : September 23, 2019 3:52 pm
Checked from the inside last night.  It is a hole all the way through; more of a fracture, really. In addition to rubbing on the metal, tension on the fabric seems to have simply pulled it apart. The car is old enough to get a driver's license.  This wasn't there a few days ago.  Huh.
So what material should I use to make my inner patch? I'm thinking I will make it large, just to take some stress off the already stressed fabric. Also think that if it had a slippery surface on one face, that would help it slide over the bar when moving the top up / down. Trying to think of ways to help with catching on the bar, and I will "chamfer" the edge of the patch material as much as I can. Anyway, I am actually considering a piece of thin, supple natural leather that is smooth on one face and rough for the adhesive side. Problem?
Also, I will use a fine brush and really work the shoe goo into a clean fabric surface underneath. Even thinking I might go as far as using a primer made of the stuff cut with thinner and working that in, followed by the full strength goo. Get the stuff really integrated into the fabric. Same with the patch material.
However, it's right next to a seam, in a curve. A large round patch might not conform well.
🐸, 2003, Electric Green Mica
Topic starter
Posted : September 24, 2019 6:01 am
... or, should I go the other direction and try to find a synthetic fabric like Kevlar or some such? I think a loose-meshy type of reinforcing fabric would conform to the odd 3D shape better, something like tent repair stuff, but heavier. I am concerned about adhesion with something like that, though. Any opinions or experience? I can do some pseudo-scientific tests on the patch materials.
My understanding, also, is that kevlar-esque fabrics don't have the best abrasion resistance, but this damage looks more like tensile stress than abrasion. Ultimately, its a patch, not a cure. I am already getting excited about a charcoal gray canvas top (not sure what happens to the rest of the tan-orange accents at that point), but the Budget Committee is not thrilled, so I can also live with a patch or two for as many years as they last. Might even pre-emptively do the other corner on the passenger side.
Anyway, where would I find such a fabric on short notice? It's going to rain eventually, and I dont want to get caught flat-footed.
TIA, as always.
🐸, 2003, Electric Green Mica
Topic starter
Posted : September 24, 2019 9:22 am
Posted : September 24, 2019 11:48 am