Brack caliper bolt backed out
Regular Maintenance & Upkeep
Doing some exhaust work and decided to hunt down a noise that started recently in my front end when braking. Found this: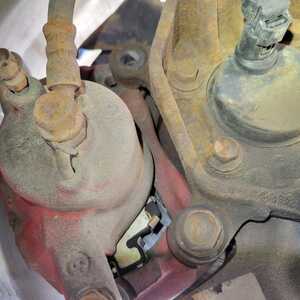 One of the caliper to hub bolts is missing. Super scary. I did my brakes like 6000 miles ago, torqued every bolt to spec and like quadruple checked. Didnt use loctite this time around. Not doing that again.
Now I cant drive until I get a replacement bolt.
How do you guys think this happened? Ive done tons of brake jobs and this is the first time this has happened. Im sure i torqued everything, but maybe not?
Posted : July 14, 2022 9:14 pm
Hard to say since I do not use lock tight and never had a problem. Vibrations are usually what causes it and it could be a bolt or the threads on the other end that are a bit worn creating a loose tolerance. I would replace it with a new bolt for good measure. Just about every year before I start the season I usually a do a safety inspection to make sure there are no loose bolts. 
 The good thing about modern braking systems is the redundancy and its very hard to get into an accident without have plenty of warning. I had it where a pad cracked and fell out but brakes still worked. 
 I was reading about modern breaking systems from the last 60 years and they mentioned they are very safe and a lot of thought went into it to make them fool proof. It would seem even if you had a leak from a line or some sort of sabotage like you see in the movies the brakes will still work to sufficiently to slow you down with some warning beforehand because they design the hydraulic circuit to have some sort of redundancy. 
This post was modified 1 month ago by
dev
Posted : July 14, 2022 10:40 pm
Im sure i torqued everything, but maybe not?
You're sure...but you're not? Dude, you're human...not a put down, just the truth 😀 Get the bolt and put it in...properly. Just be glad you had no real problems.
Hang in there, it'll be fine!
"Think as we think", say many Spyder owners, "or you are abominably wicked, you are a toad". After I'd thought about, I said "I will then, be a toad."
Thank you, Stephen Crane
Posted : July 14, 2022 11:22 pm
Haha thanks man. Def glad there were no real issues. My local advanced auto had the bolt in stock so I walked over there and got one. 
Wild that you had a pad fall out and brakes were still working
Ive come to the conclusion that I'm not going to find out what caused this bolt to fall out, so I'm just gonna redo it with a new bolt and loctite and stop worrying about it. Still spooky though
Posted : July 15, 2022 12:28 am
I would have bought a factory Toyota bolt. For the caliper I wouldn't leave anything to chance as the devil is always in the details you don't see like the kind of metal used or if there is some kind of taper.  Even with the aftermarket there were some things that seemed overbuilt and stronger than the Toyota part but one little detail makes it come apart. 
On some cars that caliper bolts are a one time use only. Its possible that they can get fatigued with repeated use. 
Posted : July 15, 2022 2:35 am
There is an issue with using Loctite, especially on critical fasteners like brakes and suspension.  Whenever you put a liquid of any kind on threads, it lubricates the thread surfaces and that makes a big change in the amount of tension applied to the bolt for a certain amount of torque.  The result is that you are now butting a load on the bolt and assembly that was never intended by the engineers that designed it.  For the brake caliper, that could mean stripping the threads or snapping the bolt.  Some folks who are sure they need a threadlocker will lower the torque applied, but there is no solid general rule for how much lower is correct.
It is possible that if you did not remove the dirt and corrosion from the old bolt with a wire brush (or use a new bolt), that contributed to the loosening.  
Posted : July 15, 2022 5:24 pm
This is very true. It also came to my attention that regular thread locker can melt under high heat and then act like a lubricant causing the bolt to back out.  I had a hell of a time with exhaust bolts on a header down pipe connection that kept coming undone. I tried many different methods until I found some high heat thread locker which worked but it has a limited shelf life where a guy on Ebay spits up a larger bottle and sell in smaller quantities.  
Posted : July 15, 2022 7:00 pm
@dev just replaced my midpipe and used high heat thread locker (2000F). The one you used was out of stock so I got a different one off amazon.
As for the bolts, the ones I got from advanced had thread locker already applied to them, it was dry though. Im pretty sure the stock toyota ones come with that too, though I really couldnt say unless I bought a bolt from toyota lol.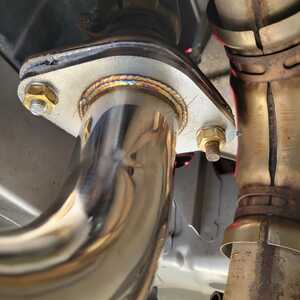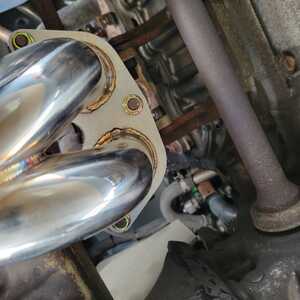 I think these are the bolts I used:
https://shop.advanceautoparts.com/p/carquest-wearever-disc-brake-caliper-bracket-mounting-bolt-h803/10584760-p?c3ch=PLA&c3nid=10584760-P
Same length, head size, and thread pitch as stock. The toyota parts listing actually has the bolt specs listed on it which I though was weird because they almost never do lol.
Also, what do you guys think about spray painting over the exhaust bolts with high heat paint to help prevent salt corrosion?
Posted : July 15, 2022 9:03 pm
I have heard that the Lexus caliper bolts for my other car come with thread locker like the ones you linked. Maybe they do come with red thread locker from the factory.  So far I haven't had one back out but I would image that with repeated use they can get fatigued and back out like what you have experienced. 
Posted : July 16, 2022 10:12 pm
Also, what do you guys think about spray painting over the exhaust bolts with high heat paint to help prevent salt corrosion?
I spray mine with StaBil End Rust from time to time. I tinkered with the exhaust(PPE header to catted "test pipe") many times last Winter(I live in Indy and road treatment is a fact of life), and had zero problems removing the nuts and bolts. I'd spray them when re-attaching also.
"Think as we think", say many Spyder owners, "or you are abominably wicked, you are a toad". After I'd thought about, I said "I will then, be a toad."
Thank you, Stephen Crane
Posted : July 17, 2022 12:05 am
Locktight likes to lose its efficacy once it's heated. Brakes can get mighty hot. Just food for thought... I've never had that happen on any car I've done brakes on using an air impact to tighten them or lots of leverage to the German spec of Gutentite.
Posted : July 18, 2022 5:00 pm
@turbo_jimbo using an impact wrench to tighten critical fasteners (like brakes) is truly a dangerous practice.  Why do you suppose there are torque specs?
Posted : July 18, 2022 7:55 pm
I've never used a torque wrench on brakes. Never had a comeback for brake issues when I was getting paid to change brakes. I doubt I have ever seen any other mechanic or tech use a torque wrench there either. 
My guess, so the people at the factory can make sure they are tight enough.
Posted : July 18, 2022 10:37 pm
Most folks would be surprised at how much Engineering goes into every fastener in an automobile.  There are consequences for under and over-tightening a nut or bolt.
One reason why I do all of my own car repair and maintenance.
Posted : July 20, 2022 5:39 pm
I should have prefaced with "YMMV" 
Do it how you see fit. I'm not your shop foreman, not the guy running the shop you work for, and not the guy who owns the shop you wrench in. Some people take great pleasure by knowing things are "perfect" or better than the factory could have done. I'm good with good enough. There are critical areas that require great attention, like looking over a steep cliff, where your firearm is pointed, how old is this ground beef... and areas where it is less important as long as its done without causing harm.
As far as the backed out bolt, my guess would be not tight enough regardless of locktite, or stretched / worn threads on the bolt or the knuckle.
Posted : July 20, 2022 9:03 pm