PFC Map Reference - Scaling for Load
Now that I have completed the physical portion of my build, I'm onto tuning this thing.  While it is still another 1ZZ, it is almost a completely different engine (larger bore, lower compression pistons, 650cc injectors, higher flow fuel pump, MWR springs, ... etc).  One thing I noticed while driving around yesterday is that I hit the bottom of the map for load.  This is something I've NEVER done before.  I haven't even come close to that with my previous turbo setup.  Also, I know that I'm running incredibly rich at that load amount.  This is still very early in the tuning process and I'm being as cautious as I can be.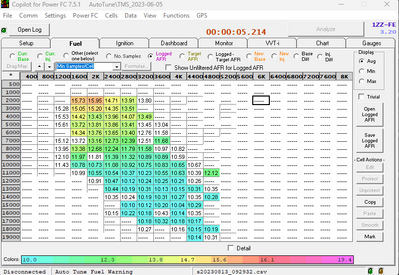 I also think this is throwing off my HP and TQ calculations: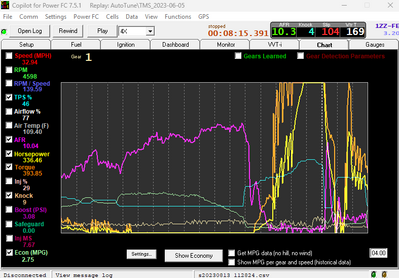 I highly doubt I'm making 337hp and 394tq at 4600rpm and 50% throttle.  I will say though that I did a battery disconnect to reset things and it was re-learning TPS a little.  But still...
Anyway, based on how I dove deep into load on that drive, I know that I need to adjust the load range to accommodate the new airflow that's coming in.  My question may be a bit too specific to this setup, but has anyone changed their displacement, turbo'd, and all that goodness with a PFC?  And if so, what were your max load values?  19000 seems like it's not high enough for mine now.
Topic starter
Posted : August 14, 2023 11:27 am
you have a few options based on what you're seeing... load is going to be calculated based on the a calculation/correlation between/of RPM and MAF voltage/TPS.. 
I am going to assume you've maxed out your MAF and this is causing your issues. In this case, either increase the size of your MAF pipe or change the MAF sensor to that from (I believe) and STI. This will require a complete rework of the map though.
Alternatively you can rescale the map which is a feature that's built in. If you don't have it, I have a rescaled map for the 1zz if you want to take a look at it. 
www.patricklipp.com
www.mytechliving.com
Posted : September 5, 2023 11:57 am
Yep.  I plan to rescale the map.  I saw where to do it and how to do it.  My current question for now is what should I set the max at?  19000 is the current max.  My initial thoughts are to set the max to 24000 and re-interpolate the other values.
Topic starter
Posted : September 7, 2023 11:30 am
@lordtakuban I'll bring it back to my previous question. Are you in these load coordinates due to maxing out the maf or is it truly the scaling that's off? In the short period of time I had my turbo, I never went much past the stock load cells, especially not early(are you building that much boost at 3000-3200rpm?). Check the logs for the maf voltage to see if that is the problem. 
part of the problem with this is the resolution of rhe
map. You have the same amount of cells/data points to work with regardless of the load and/or rpm. So if you have a max load value of 19,000 or 24,000, you'll have less data points per load value with a higher max load amount vs a smaller. 
I don't remember how it interpolates in between the cells, but the map still only
has so many data points it can save fuel and ignition data to. 
www.patricklipp.com
www.mytechliving.com
Posted : September 7, 2023 12:38 pm
I'm not sure if I'm maxing out the MAF or not.  I do have larger displacement and lower compression pistons than stock now.  I'm running 8.8:1 pistons and 2.0L bore.  I think that combined with the boost is pulling in much more air.  I do have a higher boost set now as well since I have the built internals. (around 12psi compared to 8psi previously).
If it is the MAF, do you know if the STi MAF is a direct replacement (same mounting, same harness connection)?
Topic starter
Posted : September 8, 2023 10:18 am
I'm pretty sure the sti maf is a direct replacement, but I'd double check on sc to be sure. Alternatively, if you switch to a 3" maf, I have the info from KB years ago and a map that includes the air flow curve for it. 
www.patricklipp.com
www.mytechliving.com
Posted : September 8, 2023 5:31 pm
Thanks.  I think I'll be fine with the standard diameter.  But I'll look for the info on if the STi part is a direct replacement.
I realize that my increasing the max, I'm losing resolution, but I won't have much of a choice.
Topic starter
Posted : September 11, 2023 1:13 pm
I ordered the STi MAF.  Aaron King did mention that it is a direct replacement. So I will see how that affects my plots.  I haven't re-scaled anything yet.  I'm hoping I can possibly even scale down to get higher resolution in the map depending on what the sensor returns.
Topic starter
Posted : September 11, 2023 2:20 pm
I installed the STi MAF that I ordered.  I haven't had a chance to drive it yet, but I'll report back what I find.
Here are some pics to make this post more awesomer...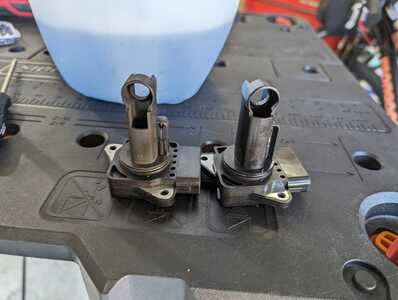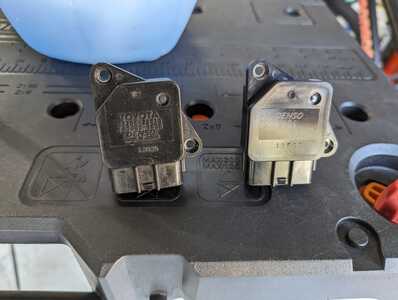 As you can see there is a slight difference in the housing.  I'm not sure what all is different with the electronics.  But I'm hoping this will not max out when I get into boost.
Topic starter
Posted : September 21, 2023 4:29 pm
Is "awesomer" a word?
It looks like the Sti "tube" that extends into the air stream is slightly shorter than the Toyota's, + it doesn't have the open area.
Please get it installed and give us an update. For the heck of it, how much did it cost? I'm always up for an experiment 🤨 🤪 🤡 
"Think as we think", say many Spyder owners, "or you are abominably wicked, you are a toad". After I'd thought about, I said "I will then, be a toad."
Thank you, Stephen Crane
Posted : September 21, 2023 10:13 pm