FS: 2003 Spyder, 97K miles, Electric Mica Green, 5-Speed Manual -- $12,500 OBO
Price dropped to $12,500 OBO.
Looking for a caring new home, one sparkly Mica Green and tan '03 Facelift: The Frog.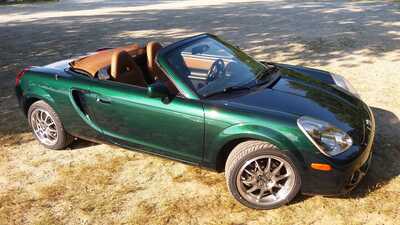 Let's get started with The Goodies, move on to The Warts, and then toss in some Extras...
******************
The Goodies:
Under 100K miles, currently at 97.6K.  Engine runs like a top, never had a hint of oil consumption issues.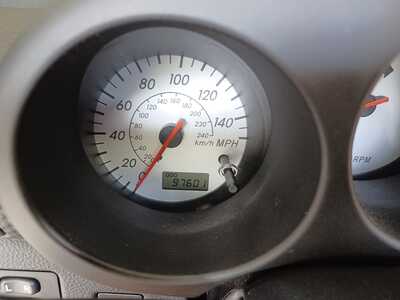 Manual transmission.  Because Perma-grin.
Interior is in truly excellent condition overall.  No cracks in dash, doors, console plastics or leather.  The leather is, aside from one wart, in great shape with zero cracks or cuts. There are a few scuffs on the plastics down in the foot wells.  Carpet and upholstery are in fine condition with no stains, with the exception of a driver's side floor mat that's gotten a bit fuzzy from regular, moderate use.  Passenger-side floor mat is in notably fine condition.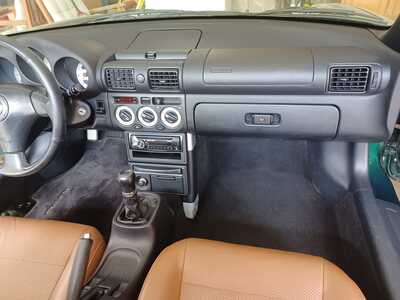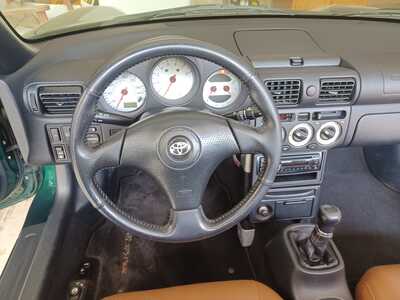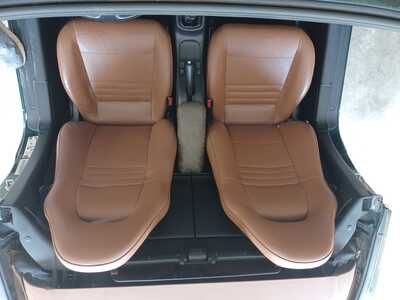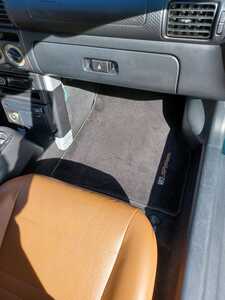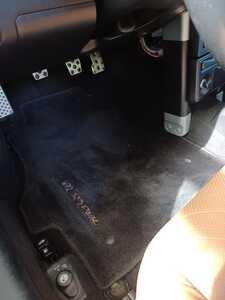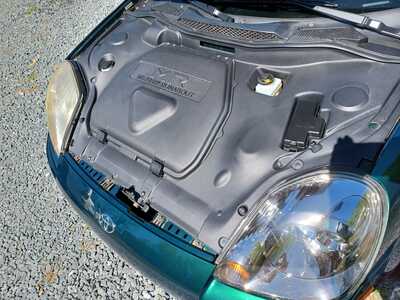 Exterior is in fair-to-good condition overall. He does go out into the world, and sometimes bad stuff does happens to his sparkly green skin, but he still looks good for his age.
Cyclehead's convex side-view mirrors, both sides. Best. Upgrade. Ever.
Sony MEX-N500BT head unit with contemporary Blaupunkt speakers of adequate capacity.  Nothing to write home about, but it does sound decent and is a big upgrade from the stock unit at the end of the day.
Original OE stereo and speakers.  Who knows, you might be a purist... and if you are, then you'll be rockin' the free world with that sweeeet cassette deck and your fave mix tape!  No clue if the thing actually works or not, but the PO said it did.  Take that with a grain of salt.
Package includes four new-in-box Toyota OE brake rotors and four new Toyota OE pads.
Struts replaced at ~86K mi, KYB OE replacements.
O2 sensors replaced at ~83K mi. with Denso OE replacement parts.
Fuel door latch cable replaced at ~92K miles, Toyota OE replacement parts.
OE Spare tire+rim included, in a well-groomed, functional frunk.  It's the original equipment and it's 20 years old.  Looks fine and holds air, but...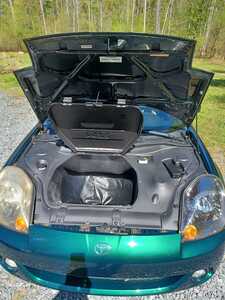 No OBD2 trouble codes.  You are welcome to use my scanner when you come see the car if you like, or bring your own scanner.  (You may NOT kick the tires, however.)
Two sets of wheels and tires mounted, both of which are 16x7 square setups:
1) Summer -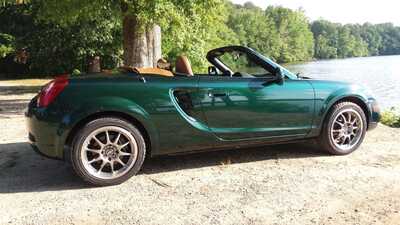 One set of Enkei J10 16x7 wheels in excellent condition -- no scratches whatsoever -- with 205/45R16 87W Yokohama S-Drives mounted.  These tires have about 1/8" of usable tread remaining (perhaps half the usable life left, but that's up to you) and have been faithfully bi-annually rotated by season, with the winter set.
2) Winter -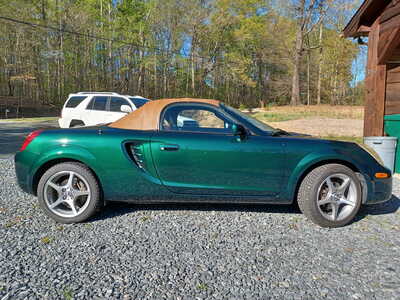 One set of four restored OE 16" rear wheels.  I restored these wheels myself and there is a thread on this in the DIY section of this site if you want to know what was done.  They look OK from five to seven feet or so, or maybe ten feet, but these will not win any awards, and this is why they are his winter wheels.  Winter here is mild, but still too cold to run summer tires year-round.  These wheels have 195/50R16 84H Toyo Observe GSi-6 winter tires mounted, with nearly all of their life left.  These tires are somewhat soft, they have three winters on them and yet they simply do not seem to have any wear at all.  Like, none.  It's spooky, really.  Who knows how long their useful life is; you can't divide by zero.
3) Extra set of four 15" OE front wheels.  Included in the package, but not really included in the price as they are not in very good shape, but they run true AFAIK. No tires on these.  Might be good for a track rat or getting a roller to roll, I dunno...
***************
The Warts:
Yes, there is an accident reported on Carfax.  It was a fender-bender, and I only even reported it at all because the old woman panicked about her husband's likely reaction and was trying to wiggle out of a blatantly illegal attempt to turn right from the left turn lane out of a parking lot, dragging her Corolla door right across the front-left corner of this undeserving car that was in the actual right lane.  The entire event, all five agonizing seconds of it, literally occurred at 1 (yes, one) MPH at most, and all damage was cosmetic.  Resulted in replacement of driver-side front quarter-panel, bumper, and headlight assembly, and some very minor straightening of the hood.
The OE top is at the end of its useful life.  Rear glass never had a separation issue, though!  There is a hole about the size of a penny from where it has been ShoeGoo'ed until the edges are now just falling away.  There are another couple of smaller patches that are holding up fine.  The bottom line is that is is a 20-year old vinyl top.  It could probably be patched with something more substantial than ShoeGoo, and might last a few more months, but there you have it: "end of life".
There are the typical minor scratches and gravel chips you would see on a car of this age that gets out and about.  There are two notable exceptions to the term "minor": there is a spot where someone keyed an X in the rear hood (Why people gotta be like that?) during the first owner's possession, and a long narrow scratch on the front hood. More moderately, but more severe than a gravel chip, it also has one small dent on the hood from a single, odd hailstone, and one dent on the bottom corner near the rear jacking point.  That dent is a couple of inches wide, but is shallow and in an inconspicuous spot.  You can barely see it in the photo above for "Winter Wheels", directly below the side air intake duct.
The keyed spot has been pretty well repaired, as well as can be expected anyway. Note how sparkly the paint is, though. 🙂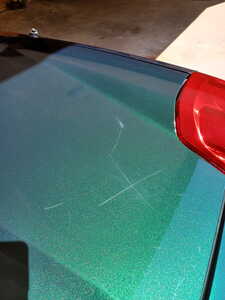 And that narrow scratch looks like this.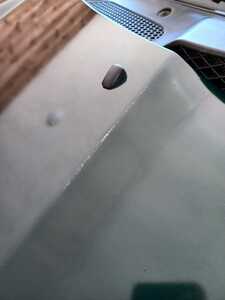 There is some wear on the left side bolster of the driver's seat where one's backside inevitably brushes against the side cushion on the way into the car. Only really affects the outer finish of the leather, functionally it is still perfectly intact.  I personally don't have this ergonomic problem so I haven't made it worse, but one of the POs obviously did have a little trouble getting in without using the seat as a slide.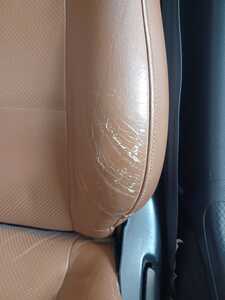 He needs a brake job "soon".  I believe the rotors currently on there are the original factory parts (the pads have been replaced once by the PO), and at this age, it's the right time for new rotors. The car is *apparently* safe and drive-able right now -- it passed a recent NC inspection and I am perfectly comfortable driving it with my kid in the passenger seat.  The brakes stop the car just fine on a hard ABS-tickling stop without pulling to one side or jerking, but the rotors are starting to warp and are getting just a bit of that wob-wob-wob-wob feel every so often.  So while there's more than enough time and function left to drive it home, it's time to replace the rotors and pads "soon".  Be reminded, however, that the primary, expensive parts for the job ARE included with this package, noted above.
********************
Extras:
A strip of exterior door-to-window trim, OE replacement part.
Most lights (not the headlights nor the side markers) have been replaced with run-of-the-mill LEDs.  Makes a big difference in being more visible to other drivers.
DIY armrest for the center console.  It's a simple, one-afternoon effort but is actually pretty comfortable.  It's waaay better than no armrest at all.  Pops off with a gentle tug if you want to, no tools required, but it stays in place pretty well otherwise.
One "Le Budget" car cover.  It works; it covers the car, and has proven to stay on in hurricane-force winds.
This topic was modified 5 months ago by
NottaMiata
🐸, 2003, Electric Green Mica
Topic starter
Posted : April 11, 2023 1:54 pm
Sorry to see you go. What made you decide to sell? GLWS
Posted : April 11, 2023 4:32 pm
Good luck with the sale. You will be missed.
  Agreed. I hope all is well with you.  Take care and good luck with the sale.
Posted : April 13, 2023 12:10 am
I haven't really driven the car much in almost two years.  After we moved out away from the city (not exactly rural, but not nearly as urban as I used to be), and found myself not commuting to an office anymore, I have driven The Whale, my 4Runner, most of the time since he is much better at hauling lumber and bags of topsoil, drainage rock, etc.  I am renovating our new home, etc.  It's an ongoing concern.  My new direction in life will also need the 4Runner for tools and ladders, making The Frog a pure luxury I cannot justify and won't even have time to drive it for fun, much less time to care for it.  I can find the money to take care of it, but I simply don't have the time.  That's pretty clear after two years, and I don't see that changing any time soon, if ever.
Having also made a recent exit from construction due to my aging connective tissue that's not up to the task anymore, I can barely even wax this car now, my elbows and shoulders being the nearly useless, aching piles of trash that they are now.  Kinda takes the joy out of taking care of a car like this.  I exaggerate about my  "uselessness", but yeah, the joy is gone.
He needs love that I can no longer give him and he is a nice enough specimen IMO to still be worthy of having someone who will take care of him.
When I do drive the car, it's still like the first day.  Such an incredible car, built like it was actually made particularly for my exact dimensions and ergonomics -- I really feel like I am wearing the car instead of just driving it and I don't think I will ever find that again in another car.  I will miss it dearly.  Painfully so.  I only got to drive it 18,000 miles. I've gone through all the stages of grief: denial, anger, bargaining, etc.  I have hit acceptance, but I retain a large degree of disappointment and sadness (i.e. self-pity, ha ha).
But the reality is that it's now going to cost [even more] money to take regular care of it.  And as I said in the listing, it needs some work that I really just don't want to do since I still have to let him go anyway.  I've agonized, stalled, procrastinated for a couple of months, and if he doesn't go soon, my wife is going to kick me out of the house for being such a whiny little b**** about it all the time, LOL.
I will miss this forum, but I've been too busy for that too, and with my life still in massive flux, I doubt that would change even if I were able to keep The Frog.  Without getting too misty-eyed, and I am kinda there right now, I have appreciated meeting all of you and being i-friends with many of you.  You've all helped me get through some panics, embarrassments and so forth, and I appreciate it immensely.  You're good people and I'm truly glad I met you.
PS - It's really hard to nail down a fair asking price for these cars, so if, in your opinion, I am asking something way off base, please be a pal and PM me.  I've been all over the place trying to guess where to come in asking.
🐸, 2003, Electric Green Mica
Topic starter
Posted : April 13, 2023 3:40 pm
Sometimes these hard decisions have to be made. I hope you find a good home for it.
Posted : April 14, 2023 12:31 am
I totally understand what you're experiencing. Fortunately, at 73+ and surviving rotator cuff/hip replacements/triple bypass surgeries, I finally, really, retired. I'm still able to physically do most activities(zero running and heavy lifting), and still get great enjoyment from my 2 toys(my '01 2ZZC60 Spyder and my '11 BMW E88 135i). I wish you well.
Now, concerning your sale; would you consider selling one of your sets of wheels/tires?
Just remember the "Old Milwaukee Beer" slogan; "it doesn't get any better than this"_______ 🤔 🤯 
"Think as we think", say many Spyder owners, "or you are abominably wicked, you are a toad". After I'd thought about, I said "I will then, be a toad."
Thank you, Stephen Crane
Posted : April 19, 2023 6:54 pm
@galo Yes, I would consider selling a set of wheels.  Sent you a PM.
🐸, 2003, Electric Green Mica
Topic starter
Posted : April 21, 2023 7:47 am
Price dropped to $12,500 OBO.
🐸, 2003, Electric Green Mica
Topic starter
Posted : April 26, 2023 8:35 am
Sold two days ago.  It's uncomfortable to simply not know where The Frog is anymore.  However, the new owner is someone in whom I am fully confident, in terms of providing a loving home, so I'm happy about that.
🐸, 2003, Electric Green Mica
Topic starter
Posted : June 3, 2023 7:22 am
I wish you my best, my friend!
"Think as we think", say many Spyder owners, "or you are abominably wicked, you are a toad". After I'd thought about, I said "I will then, be a toad."
Thank you, Stephen Crane
Posted : June 3, 2023 5:12 pm