[Sticky]

Submit your glamour shots!
I love possums! Follow a bunch on Instagram. Great little animals, resistant to rabies and eat copious ticks. Surprisingly nice to humans if accustomed, though I'd never approach a wild one for obvious reasons. 
2000 Toyota MR2 Spyder, 2017 Lexus CT200h F Sport
Posted : April 6, 2020 12:14 am
Oh my goodness!  This thread has taken a most wonderful turn!  I gotta see pictures!  Please! Please! Please!   Dogs, ferrets,  and friendly possums (which I had no idea existed).  I want to see them all!
Posted : April 6, 2020 1:56 am
Lemme just aid this thread with a few older photos of my dog. Only a few years old, maybe two. He's in his car seat.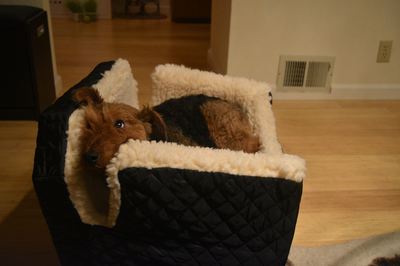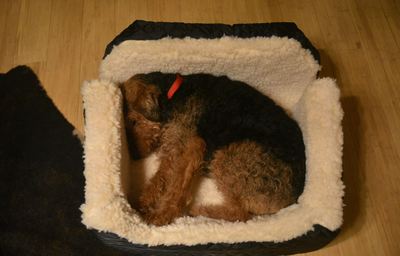 2000 Toyota MR2 Spyder, 2017 Lexus CT200h F Sport
Posted : April 6, 2020 2:08 am
Adelaide is an Australian Shepherd.  She is going to be eight years old this August.  
She is the best girl ever, super smart and just an absolute joy.  She walks with me in the woods with no leash, and always comes to me when called.  Sometimes she comes a little slower than others, if she is investigating a strange smell or other important thing she may have discovered or noticed.  
She is very good about not taking off after other animals.  She comes to attention and points, whines a little and waits for permission.
Being a member of the family means she has access to all the furniture.  She sleeps right next to me in the bed, usually with her butt in my armpit and her legs hanging off the side of the bed.  She likes to be ready to spring into action, just in case one of those rascally squirrels runs across the roof.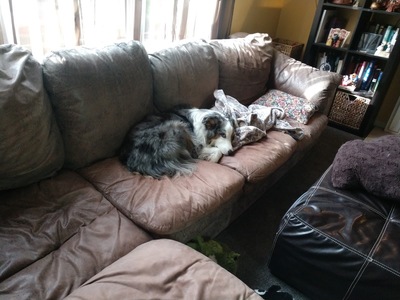 http://zero3nine.com/files/dospwn.gif
Posted : April 6, 2020 9:21 am
Ok, I'll bite. (Couldn't resist). Here is our rescue, Poppy. 4 y.o. Female Chi-Rat, which is a fantastic mix. Was never a fan of Chihuahuas, but the hybrids are actually great dogs.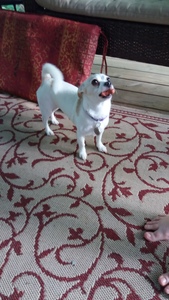 She likes to carry her treats around for a while, so she can "have" them, I suppose.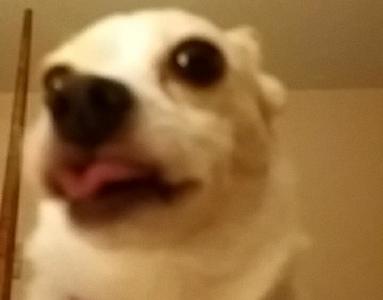 She gives lots of kisses, sometimes defensively...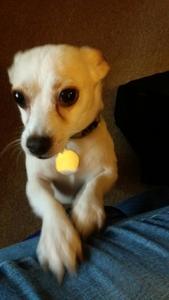 "You aren't eating that pizza crust, Dad!  Can I haz it?"  (This one was taken when she was still a puppy, she is beefed up a bit now, still small but quite well-muscled. She chases deer, lol.)
She absolutely loves pizza crust. Hard to resist her, but we keep her healthy, so portions are small.
This is the only dog I have ever seen that doesn't eat all her food the moment it hits the bowl, before the second bounce, so she is in good condition weight-wise. We sometimes wonder if there is some tabby cat in there somewhere. Absolutely the sweetest, kindest dog ever, which rules out any feline component.
Edit: just realized a trend in those pics. But yes, Poppy does actually have ears. Impossibly big ones: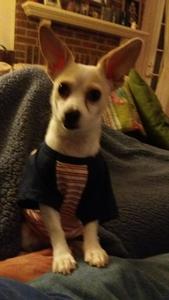 🐸, 2003, Electric Green Mica, not enough mods
Posted : April 6, 2020 10:12 pm
Posted : April 6, 2020 11:32 pm
Posted : April 7, 2020 9:44 am
Well, no one said it had to be a Spyder and this is a mid-engined, RWD two seater. 😀 
[img]
[/img]
Cranky, cantankerous, sarcastic Scottish git whose interests are beer, cars, motorbikes and scuba diving.
Currently driving a 2018 sapphire blue Porsche 718 Boxster and riding a 2019 Kawasaki Z1000SX.
Posted : April 7, 2020 10:05 am
Another Norman Rockwell.  They have these photo services that can take a photograph and turn it into a canvas painting.  I see some good photos here that would work. 
Posted : April 7, 2020 9:10 pm