Tightening the ragtop latches
I know this has been covered before, but I took some pictures and tried to get measurements.  Maybe it will help somebody.
If you need your latches to pull the top tighter to the windshield frame, you can disassemble the latch and get some extra travel (pulling the top down tighter).
The latch can be disassembled without removing from the car.   Pry the round push-nut off using a small screwdriver.  Try not to mangle it so you can reinstall it when you're finished.
Pull the pin (that had the push nut installed) and remove the pivoting hook arms and barrel adjuster.
Unthread the parts of the barrel adjuster and start grinding.
There seem to be three limits you get by cutting on things.  #1 is the least amount of extra travel.  #3 is the most extra travel.
1.  Grind the adjuster barrel to about 1.12 inch overall length.   This will get you about .08 inch extra travel.
2. Grind the adjuster barrel to about 1.08 inch overall length.  To take advantage of the shorter barrel, you also need to grind the tip of the reverse-thread bolt. (Because it will bottom out inside the adjuster barrel if you don't).  I didn't measure how much to grind the end of the bolt.  Just thread it into the barrel and see if it bottoms out.  If so, grind a little more.  This will get you about .12 inch extra travel.
3. Grind both parts as above, but also extend the length of the slots.  If you keep grinding the tip of the reverse-thread bolt, you will eventually exceed the range of the slots.  To get extra travel, you'll need to lengthen the slots (on the meaty end of course).
Tips:  
Break the edges of the threads on the barrel adjuster with a countersink tool.  They'll have shards that will make it hard to thread the reverse-thread bolt.
I re-used the push nuts.  If they're too bent, you can flatten them with pliers for more bite.
Pictures:
Pry off the push nut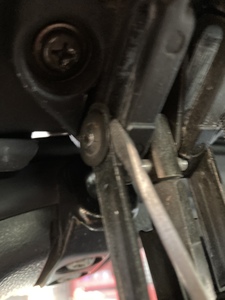 Remove the pin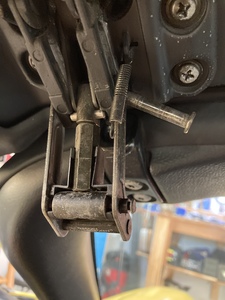 The pivot hook arms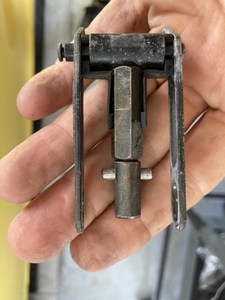 The barrel adjuster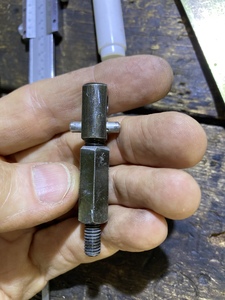 Adjuster barrel before and after trimming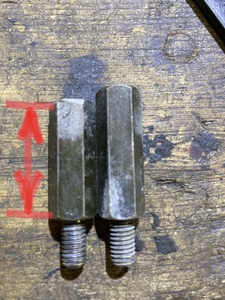 Break the sharp edges of the threads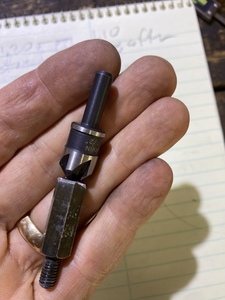 Trimming the end of the reverse-thread bolt (so it won't bottom out inside the barrel adjuster)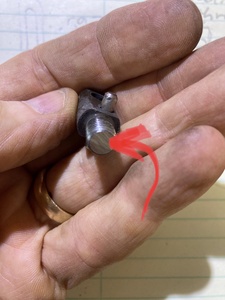 Extend the length of the slot cutout to get the maximum travel
(I did a sloppy job, but it seemed to work fine)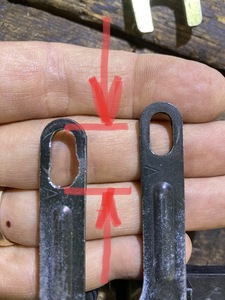 Add a little grease in the tracks to make the latch work more smoothly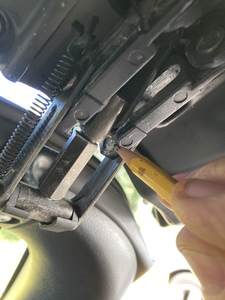 I make Amateur Armrests - see the Commercial Forum. I also have SMT repair seals available.
Topic starter
Posted : November 17, 2020 10:00 pm
Thank you cyclehead for taking the time to photograph and write-up this fix for the community.  This is very much appreciated.  
Posted : November 18, 2020 7:03 pm