Short Antennas, Motul fluids, Vinyl Decals, and more...
In case you weren't aware, my website is:
Aside from what's there, I can also do custom vinyl decals and I have a few items for other cars too. 
For instance, I just finished a custom Dash Kit for the 86/FR-S/BRZ/GT-86.  This is the only kit on the market that will let you actually mount one of the Chinese HU's like ones from JOYING in the car at the correct fore/aft position.  It also helps with other double-din HU's like the Pioneer unit I have in there now.
Posted : June 23, 2019 3:48 pm
thanks for the link... i never went back to our thread about the SS door sill decals... looks like they are all set to go?  i'll be putting in an order as well as some other things... 
Yep.  I have them ready to ship.  And even if not, I can cut more when I run out.  I have LOTS of vinyl!
Posted : June 24, 2019 5:32 pm
So good to see vendors I am familiar with from years ago.
Ordering soon.
Posted : June 28, 2019 11:46 am
So I just got a new batch of antennas in from the manufacturer in a more traditional anodized black finish.  It's not as matte/flat as the current antennas that I've been doing.  I am going possibly get some more of the flat ones and then possibly offer them in the choice of finishes, but I was curious what you guys think of the idea or if it's really worth it to keep 2 different products in the inventory.  I'll post some pics for comparison tomorrow, but I'd appreciate your input.
Thanks.
Posted : August 29, 2019 6:00 pm
Well, I was going to post some pics, but then this damn hurricane started coming at me.  It's stalled over the bahamas now and is supposed to turn to the north, but I was in credibly busy right after posting the previous message.  And I've decided to get another batch that are matte and offer the choice to the buyer.  I will post pics once all is done and ready.
Posted : September 2, 2019 9:05 am
Thanks.  The storm stayed off the coast of Florida.  The Bahamas did not fare as well though, unfortunately.  It's very sad to see the destruction that occurred there.
Ultimately, I have decided to offer the antenna in a choice of finish.  I might create new SKU's for each one as the design is slightly different although you would never know by looking at them.  I have about 10 or so of the original style/finish left in inventory now.  And plenty of the regular black that I will wait to list until I have the other finish in hand as well (should be about 2 weeks or so).
Posted : September 4, 2019 8:24 am
I installed the short antenna kit tonight and it's a great product. Thanks!
Posted : September 5, 2019 10:46 pm
I installed the short antenna kit tonight and it's a great product. Thanks!
Great to hear!
Posted : September 6, 2019 11:29 am
Well, the wait is now over.  I have just put my LT Short Antenna 2.0 live on my site!  Before anyone gets too excited, it is barely different from the original.  The main difference is the finishes.  I now offer it in 2 different ones.  And they're both different from the original (of which I have about 5 or 6 on hand).  Once the originals are sold out, they will not come back.  But I wouldn't worry too much.  I actually think the new design may get slightly better reception and will fit just slightly better onto the rubber grommet.
Here is a comparison of the antennas: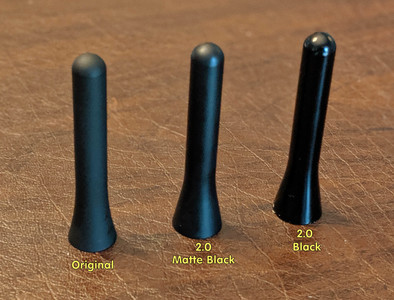 As you can see, the only really noticeable difference is the finish.
Here's a link to the new product:

And it's also available in a combo with the conversion kit:

Thoughts? comments?
Posted : September 19, 2019 3:56 pm
If someone recently bought an antenna from me and feels like they got a bum deal by not getting the newer version, I'll send you a single new version antenna in the finish of your choice for $5.00.  I'll see if I can set something up using the website.  For now, just PM me and I'll come up with something.
Posted : September 19, 2019 4:00 pm
I've been trying to figure out how to get one on my Alfa.
Next time I'm up that way, I'll have to take a look and see what can be done.  I'm sure there's some sort of modification to make it work.  🙂
Posted : September 21, 2019 12:35 pm