[Sticky]

Submit your glamour shots!
I went to probably the last car show in my area and fortunately it was just down the street from my house. I spotted this beetle not because I like them but I found it interesting because it has time period paint that just stood out and reminded me of when I was a small child in the 70s seeing these cars. The other ones at car shows have paint that looks too good and therefore ugly in my opinion.  I talked to the owner who was a young guy and he was very happy I was taking a picture of it and wanted me to send it to him so I developed it first.  This was taken with the Tamron 45 1.8 VC which is an great lens.   I hope this medium format  picture does it justice. 
Posted : November 8, 2020 10:03 am
Time for the crown jewel of my lens collection. The Canon 35L .  This lens was first made in 1998 and if you tally  how much it would cost in todays money it would be over $2k which is super expensive.  I have been eyeing this lens since 2005 because the photos it produces is amazing.  I though the 85L would be the best lens I own its not, its this one.  Where other lenses are sharp this lens has a look that makes the image. 
Posted : November 9, 2020 6:16 pm
Looking forward to getting some pictures from this beast. This is a Canon 24mm Tilt Shift lens.  I got it for a bargain because it had a crack on a plastic part in front of the lens. I bought it from a whole sale reseller that discounted the lens as a result to just a little over $1k  and decided to take a chance.  It looks like some idiot tried to remove the plastic garnish with a lens spanner and cracked it. I bought the part for $10 from Canon which is a major savings from buying brand-new which would have been $2k. I could easily turn around and sell for more. 
  This thing has a learning curve which I intend to master.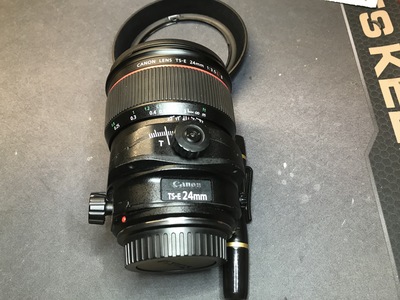 Posted : November 26, 2020 9:23 am