Aokumo: Restoration now, turbo 2ZZ later?
Picked up this Spyder early last week. I knew it was bad, but the more I dig into it the more I find out exactly how much I underestimated the bad. For example, the back window is duct taped in. The car has been indoors since I got it a week ago but even though it has been protected from the rain I still pulled out a gallon and a half of water Sunday morning and another pint today. For example, I knew that the front bumper was sagging but I didn't know that the mounting tabs on the passenger side fender were contributing to the sag by being broken. For example, I knew that the battery was weak but I didn't know that it was being discharged overnight by the bent antenna mast/motor.
It was supposed to be just a little bit of fixing up now and some bodywork and performance stuff next year, but the list of urgent repairs keeps growing. I stripped the interior over the weekend to get it drying and this is what the carpet looked like about six hours AFTER I vacuumed 1.5 gallons out of it.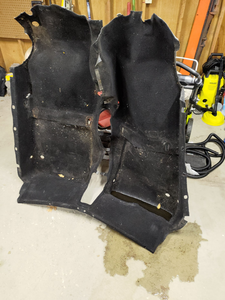 While the interior is out, I have a few things that I should address. The shifter base bushings seem like they might be detiorated/missing. The shifter is beyond floppy, so while I wouldn't have installed any standard-of-living or performance parts until after winter, this one is a bit important and I already have everything out anyway.
Topic starter
Posted : December 6, 2021 9:28 am
Also there's some rust under the pedals that I need to sand down and treat before the carpet goes back in. It's not as bad as it looks since most of that is rust-stained carpet padding that is stuck to the floor, but I need to tackle it now before I install the carpet and promptly forget about it.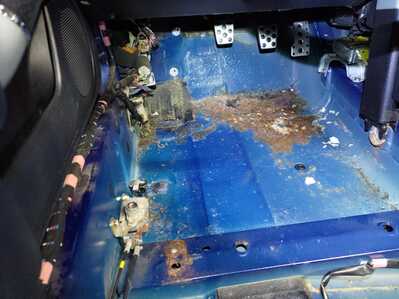 The new top is arriving Wednesday so I have three work days to get it installed before I take the car to Cincinnati for my birthday. Is there any chance one person and one unwilling assistant can tackle a top in three 4 hour days? My husband is the "gets yelled at for holding the flashlight wrong" kind of person in the garage.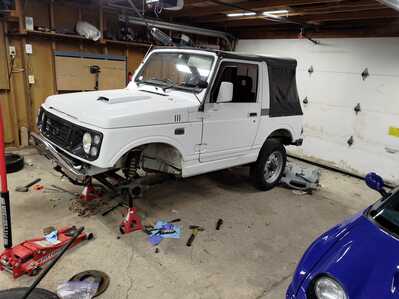 I also have this project to finish before the top arrives, since the welding shop still hasn't returned the steering rods. It was a one day job that they promised to have done Thursday morning, but here we are still waiting on them. Should things go according to plan, I will be exhausted before the new top even gets here...
Topic starter
Posted : December 6, 2021 9:34 am
Also this ZZW30 is a completely stock 2003 5 speed with 220k miles. So that's current status about the car. Here's some background about me.
EDIT: Finally started posting this story again here: https://opposite-lock.com/topic/31193/dsm-or-how-ruining-my-life-was-the-best-decision-that-i-ever-made-part-1-catching-a-disease
My first car was an Eclipse GST Spyder because Need for Speed. I learned all about cars by performing the maintenance on that and by upgrading things as they broke. When it got totaled after 6 years, I replaced it with an AWD Talon that I swapped the go fast bits into. The chassis was already rotten when I got it and it went through two transmissions, with the second one dying on the day of my college graduation after 14 months of ownership. I parked it in a dumpster on my way back to Cincinnati and worked my high school job over the summer to save enough money to buy a new car. My mom talked me into another GST Spyder that I couldn't afford, but the seller accepted my paltry offering anyway. Long story short, that car lasted only long enough to move me to Indy and get to the first day of my big boy job before throwing rod bearings and suffering catastrophic chassis failure at the same time.
From there I had a see-through Miata named Rusty until the paychecks started coming in, then I got a nice NA that was my daily driver for two years. Turbocharger, coilovers, star specs. The works. Then I got a Focus RS which was a mistake. Replaced that with another Eclipse GSX. I bought an Autozam AZ-1 and the husband bought a Suzuki Jimny. We picked up a Ranger, he upgraded his 500 to an Abarth, we bought a Subaru Sambar. He traded the Abarth for a Fiesta ST. I bought an Autozam Scrum. He traded his Fiesta for a Volvo S40 T5. I bought an ND Miata and he traded his Volvo for a Chevy Bolt. We bought a second Jimny. I'm skipping over a ton of stuff because I had all of it typed out and posted in a 14 part series on Oppositelock that I will eventually repost onto Opposite-Lock and link here. But until then, that's the gist. 
My beloved 30th Anniversary Miata was totaled in September and as you can see from my history, I don't not have a convertible. We sold the Sambar truck at the same time and were down to five cars: Bolt, Eclipse, AZ-1, van, and Jimny #2. I thought about a Cappuccino or another NA and was in talks with a guy from California to buy a used 30th Anniversary, but in the end I wanted something I could afford without financing and was modern enough to survive another impact with an F-650 if that were to happen again. NB is not my style and NC is gross, so ZZW30 was the only other option I could come up. Briefly considered an E30 convertible, E36 M3 convertible, maybe a Mercedes convertible, a 240 SX convertible, and even AWD swapping an Eclipse Spyder using my GSX as donor, but none of them felt modern enough (or cheap enough long-term). 
I was set on a 2004-05 and so I ignored this one for several weeks, but after a test drive to try out the chassis I was too impressed to pass it up. I knew it needed work but it was half the price of the others I was looking at and I wouldn't even have to fly to Tampa to get it! Also this blue was my first choice on a Spyder.
Topic starter
Posted : December 6, 2021 10:02 am
Maybe I missed it but could you explain
"Aokumo"
is that a Japanese term?
Posted : December 6, 2021 3:17 pm
Maybe I missed it but could you explain

"Aokumo"

is that a Japanese term?
Aokumo is Google Translate Japanese for Blue Spider. I thought it was fitting. That will be my license plate, if it ever arrives.
I was planning a third section for my plans for the car but that will have to wait until later. Work got in the way of typing out another post, but the good news is that the carpet has been thoroughly cleaned and is nearly dry. Shouldn't be much longer before I start reassembly of the interior!
Topic starter
Posted : December 6, 2021 11:28 pm
Interesting story and cars, and I like the personalized plate, mine is 2ZZC60...glad you got the carpet dried, that would be a pain! Oh, I can hold a flashlight steady, but I'm better with ratchets and wrenches. Keep me posted.
"Think as we think", say many Spyder owners, "or you are abominably wicked, you are a toad". After I'd thought about, I said "I will then, be a toad."
Thank you, Stephen Crane
Posted : December 7, 2021 8:22 pm
I made it to rm2011's garage late Wednesday afternoon. He had already started removing the top "cloth", which we finished, but discovered more damage; the material that forms the "funnel" to the passenger side drain was damaged. This is more than likely how the water got into the interior.  His short shifter from MWR arrived, so we got it installed. Now he's waiting for the parts to get his new top installed. He does have a lot more to do, but he is driven...pun intended.
"Think as we think", say many Spyder owners, "or you are abominably wicked, you are a toad". After I'd thought about, I said "I will then, be a toad."
Thank you, Stephen Crane
Posted : December 9, 2021 7:13 pm
That is awesome that you were able to go over and give him a hand.  This is a great community of people.
Posted : December 10, 2021 9:49 am
Welcome! Hoping this project continues to go well. The Midnight Blue is my favorite color on the Spyder too, and there is one for sale locally, I am slightly tempted.
I am smitten with the AZ-1, but at the same time terrified at the thought of owning one and having mechanical issues with no parts availability, or worse, the car being damaged by all the friggin monster trucks on the road now. Kudos for being brave enough to own one!
Posted : December 10, 2021 7:49 pm
@galo @randman2011 If the drain bags are completely falling apart there may be hope. I have had great success repairing them with Flex Seal tape.
*Aren't
Posted : December 10, 2021 7:52 pm
@marsrock7 ...obviously never thought about using "tape"! That sounds like a good fix, but having the real part, in the long run, is probably the best method.
And you should hear/see what he has in store for the AZ. This "kid" has HUGE experience in doing car mods! There is a 3 cylinder Toyota DOHC VVT engine on an engine stand that he says has the ability to be modded to relatively high power output...which he wants to put into the AZ! I hope he fills us in on this and other
"plans" he might have!
"Think as we think", say many Spyder owners, "or you are abominably wicked, you are a toad". After I'd thought about, I said "I will then, be a toad."
Thank you, Stephen Crane
Posted : December 12, 2021 5:49 pm
@galo and I spent quite a bit of time scratching our heads over the BGB and the included top instructions, but we eventually got the old original 18 year old vinyl off of the frame. Both the driver and side drain bags were ripped at the seams. I considered an epoxy or vinyl glue but Flex Seal tape would have been a much better idea, @marsrock7. I even have some! Oh well. The only rush was that I was driving the car to Cincinnati this weekend no matter what, and I decided to just go with no top instead of installing the new one then taking it off again when the new parts arrive. 
I was planning for the two of us to drive separately, but the Bolt got a flat tire and the husband decided not to charge it, so we all piled into the MR-2 for the two hour drive. I hadn't mentioned this purchase to my family and was intending to surprise them with it when I came home for my birthday, and everyone loved it! My grandma thought it was just the coolest thing ever! The way back was more interesting since I was carrying a lot of stuff back home, but I managed to make everything fit without much effort. Five place settings, six cans of chili, some clothes, various Christmas decorations, a backpack a duffel bag, a three layer cake, a pillow, a husband, and a dog, and I didn't even use the storage bin behind the driver seat!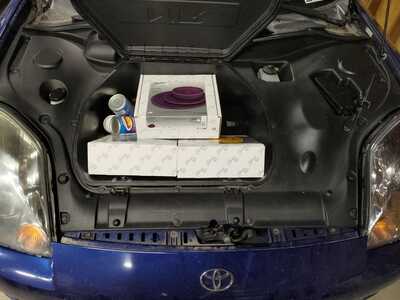 @marsrock7, I am chronicling my AZ-1 ownership on GRM if you're interested. Lots of stupid stuff has gone down, but other than the front bumper parts availability hasn't been a problem. And the bumper is back in production again. https://grassrootsmotorsports.com/forum/build-projects-and-project-cars/project-kujira-my-over-the-top-az-1-build/127816/page1/  
Topic starter
Posted : December 13, 2021 12:04 pm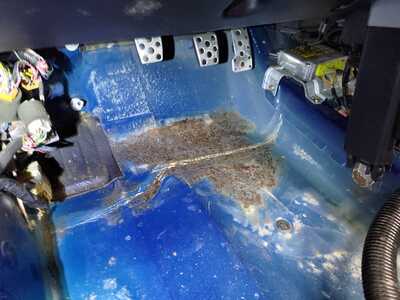 The rust by the pedals wasn't bad at all. I spent a few hours knocking off the chunks and then sanding down the rest before coating it in a rust converting primer and top coat. I didn't get any pictures after paint because I was getting close to departure time and was just excited to have the interior back in again, but I did completely forget about a vet appointment for the dog so I threw the driver seat back in, tossed in a floor mat, and put the dog on the floor on one of his beds. He was very unhappy because he couldn't see out of the car from down there and I wouldn't let him up on the dash to look out. He was much happier on the husband's lap yesterday because he could make stupid faces at all of the other cars on the road.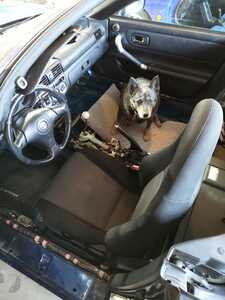 Topic starter
Posted : December 13, 2021 12:10 pm
 because he could make stupid faces at all of the other cars on the road.

 
So, was that your husband making the faces, or the dog... 😉 😉 🤣  Your doggy is great! He was so friendly, wagging his tail and his entire body when you opened the gate! He didn't seem to mind when I told him I'm a retired Mailman!!!
Did you take your grandma for a ride? She would have had a great time!
Keep me posted!
"Think as we think", say many Spyder owners, "or you are abominably wicked, you are a toad". After I'd thought about, I said "I will then, be a toad."
Thank you, Stephen Crane
Posted : December 13, 2021 6:55 pm