I created this last year for my own edification based on my 2003 Spyder. Then I realized that others with a FL Spyder might find the information useful. I've updated it showing newer tires available. This is primarily for Spyders using OEM wheels, stock height with no camber bolts, and not for those of you who want wider/larger diameter wheels and tires. It is meant for the daily driver and not for those who track or autocross.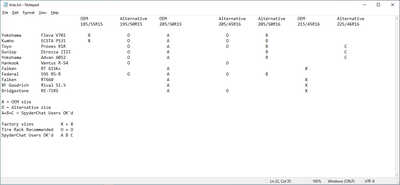 This topic was modified 1 year ago 2 times by
mrsponz
Topic starter
Posted : August 13, 2022 1:13 pm
Thanks for putting that together.  That will definitely help out my fellow Floridian spyder owners.  I generally run a little wider than stock, but on 15's still because light weight.  ... Anyway, thanks again for posting!
Posted : August 15, 2022 10:12 am