post header flex pipe
Mine is cracked, car sounds like a lawnmower and stealership wants almost 1800 for the part.
I can replace the entire header, downpipe and eliminate precats and flexpipe for around 700 but I'd rather just replace the part.
Anybody got one?
http://zero3nine.com/files/dospwn.gif
Posted : November 20, 2019 8:34 pm
Bummer. That's obnoxiously expensive for six inches of glorified clothes dryer exhaust hose.
If you go the second route and replace the whole mid-GI tract, please make a DIY thread. I would totally read that. 😊
🐸, 2003, Electric Green Mica, not enough mods
Posted : November 20, 2019 8:53 pm
I have one but it's modified. I was planing to keep it just in case  the Che downpipe would throw a CEL and I need to pass emissions. Those days are behind me once my car is registered historic and the Che cat has been doing fine.  
The one I have has a bung welded for the front O2 sensor for a 2ZZ and the flex pipes were replaced with better ones that are not only stronger but also remove the power robbing chokes that should yield you a little more performance without making it sound loud. 
I could let it go for $100 plus shipping. 
Posted : November 20, 2019 10:37 pm
Hmmmm
Pretty sure I'm about to pull the trigger on the new unit from Monkey Wrench.
I'm not DIY'ing it, the car is at OTP Automotive waiting for to decide which parts I'm going to ship directly to Ken, so he can install them.
Considering the header and downpipe combo... Or not. Meanwhile I have my heat shield on my kitchen table, in the process of removing all the rust and I plan to paint it to match my AEM cold air intake tube. Also ordered new bolts from Toyota for that, probably going to paint those black. Or maybe the shield will get silver paint to match the car, and the bolts can be red to match the tube.
Decisions, decisions
http://zero3nine.com/files/dospwn.gif
Posted : November 23, 2019 6:50 pm
Or... since high temperature paint colors are sort of limited, maybe I'll paint the shield black with a red logo on it... like this: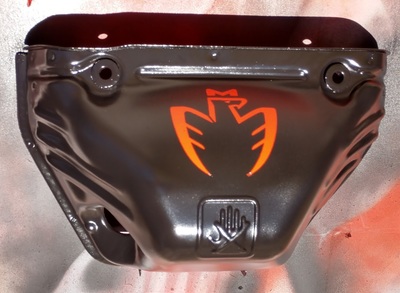 http://zero3nine.com/files/dospwn.gif
Posted : November 24, 2019 5:59 pm