2zz idle surge issue
Hi All, Not quite sure if this is the right thread from troubleshooting 2zz swaps but here goes
I bought an incomplete 2zz swapped mr2 that had an idle surge issue and basically, I'm at a complete loss. Below are the symptoms and what I've tried. 
Idle surges from 1200-2200 rpm under the below circumstances
Coasting in neutral
At stoplight
Once the coolant is warmed to about 86 deg C
When the car is hot
Iacv unplugged
The car drives fine in gear goes into lift
The car is running rich I am confident it's an exhaust leak.
Here's what I've done to diagnose:
Ive taken apart the TB and iacv and fully cleaned both.
Burped the coolant with 2 service hoses up front and reservoir open
Drove around with the 2 services hose ports closed and reservoir open in case of trapped bubbles.
Replaced iacv with oreillys replacement (no change so I returned it back to oreillys and put the oem one back in.)
TPS is at 13.7 percent and the wiring color is yellow, blue, then brown.
Ignition advance starts at 16 and slowly rises to 26 and peaked at 33.5 but more consistently at 26.
MAF is reading 8.65 g/s
Unplugged iacv everything else stock

Idle surge with both used and new aftermarket iacv

Put electrical tape over the opening of the iacv port in the TB.

Car idles at 850 Butterfly plate screw was completely removed.
Revs fine didn't take it for a test drive.

Put electrical tape over all around the butterfly plate to seal it and left the iacv port open

Car idles at 1500 steadily
Couldn't rev it and no test drive.

Put electrical tape over both iacv port and around butterfly plate

Car stalled

Replaced the evap cannister, breather hoses, pcv, and brake booster hoses.
Pictures and videos
https://photos.app.goo.gl/1ApFdkhDsKmmKX3y8
there is one 27 second long video where the idle is stable and that was when i sealed off the butterfly plate with electrical tape but left the iacv port open.
Any thoughts are welcome. Thanks.
Topic starter
Posted : December 28, 2020 5:08 pm
One thing to note:  The coolant fill bottle will de-aerate and trap any remaining bubbles with the cap on.  No need to, and no advantage to driving around with the cap off.  If there was any air, the coolant bottle level will drop.
Even if there is no CEL lit, it is worth hooking up an OBD2 reader to check for codes.  
Dave
Posted : December 29, 2020 4:30 pm
I've been clearing the OBD2 codes and fuel trims every time I change something.
I have misfire codes that I guess are from the engine surging. 
Topic starter
Posted : December 30, 2020 1:36 am
You need to write the codes down each time before clearing.  Then once you have a few sets, research the consistent codes and start troubleshooting from there.  Random codes may not be random...
Mono Craft GT-300 with a few upgrades...
Posted : December 30, 2020 7:42 am
So the codes when I initially got the car and idle surge issue were
P0441 evap
P0446 evap
P0171 bank 1 lean 
To address P0441 and P0446 I replaced the evap canister/vsv on the canister I did a smoke test to find evap leaks and replaced two breather hoses and the gas cap. 
To address the P0171 I also sent 4 yellow injectors to RC fuel injection to get injectors cleaned. one injector started with 171cc and came back with 309cc the rest were in the range of 270cc and came back 310cc.
In order to attempt to make the car legal I've had to install the following 
Weapon r intake 
01 celica gts throttle body 
01 celica gts intake manifold
01 celica gts header
midship garage midpipe
ebay exhaust
new o2 pre and post cat o2 sensors
new maf sensor
During my diagnostics, I've been consistently getting I haven't been running the car long enough for any other codes to set. I haven't been too keen on driving the car around with the idle surge. 
P0100 maf
P0505 iacv
P0120 tps
P0300 random misfire
P0301 Cylinder 1 misfire
P0303 Cylinder 3 misfire
I assume the above codes are from me unplugging the various sensors and starting the car. 
I've also replaced the coil packs and spark plugs. When I took the out all the spark plugs they looked pretty consistent across the board so I can more confidently say all 4 cylinders were performing similarly. They weren't excessively sooty (rich) or white (lean).
I've also been basing a lot of my diagnostics on this thread 
https://www.spyderchat.com/threads/idle-surge-in-2zz-without-pfc.66898/
This post was modified 3 weeks ago 3 times by
lyzekachen
Topic starter
Posted : December 30, 2020 10:51 am
Did the car come with a swap harness or did someone wire it up using the pin out diagram?
Posted : December 30, 2020 11:54 am
Topic starter
Posted : December 30, 2020 2:03 pm
I believe the previous owner used the wiring diagram following the below thread.

 

https://www.spyderchat.com/threads/2zz-swap-wiring-spreadsheet.154361/

 

I have not checked his wiring work though during the sale he mentioned the wiring work was not as hard as I made it out to be. 

I did check his TPS wire and he did switch the polarity on that. 
I have read plenty of situations for exactly the same issues you are going though because of the pin out was incorrectly done.  No one knows why and some were eventually corrected with little feedback afterwards  because the original poster would vanish.  One guy inherited a failed 2ZZ swap project where the wires were taped together.  The reason why I asked because its a very typical scenario of someone inheriting a budgeted 2ZZ swap where they were trying to save money on the swap harness. 
 This is not to say there weren't any successful pin out swaps but there are a good handful of incorrect ones done.   Usually they go unnoticed because the  original owner of the swap used a PFC and all of the problems come to  next owner tying  to revert back to a factory ECU to get it though inspection. 
Posted : December 30, 2020 4:11 pm
Based on your last codes, I would go through the trouble shooting procedures (just need a Volt-Ohm meter) in the Celica shop manual for the TPS and IAC, and MAF codes.  This will probably uncover a wiring error.  
Posted : December 30, 2020 4:33 pm
A wiring issue would probably be my worst fear. It would also be beyond my ability to check. I will try and check for mechanical issues and save the wiring/electrical issues for the professionals. 
This is a picture of the throttle body in the car right now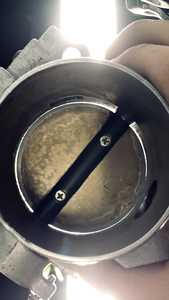 Though I found this picture at http://maxbore.com/toyota.html

My guess now is either a combination of failed/failing iacv and leaking throttle plate or just the leaking throttle plate. 
Topic starter
Posted : December 30, 2020 4:50 pm
Check the TPS connector. Make sure it is clean and the connection is secure. 
Posted : December 30, 2020 6:39 pm