SOLD: Eibach Pro Kit lowering springs
I'm looking for a slightly stiffer set of springs. The Eibachs have ~20k miles on them. I would like to see about trading them for Tein S Tech, H&R Sport, Tanabe GF210, or similar if anyone wants to swap before outright buying another set of springs. Thanks all.
Update: Installed RSR Ti2000's. Eibachs are for sale. Pics and details down below.
Topic starter
Posted : November 29, 2019 2:44 pm
GF210 are funky, the balance isn't great. Just a heads up.
2000 Toyota MR2 Spyder, 2021 Lexus UX 250h F Sport
Posted : November 29, 2019 5:31 pm
Thanks for that.... Now that you mention it, the simple math doesn't line up well with a 43/57 weight bias. I'm guessing understeer becomes a problem with them? Regardless, I'll take them off my list.
Topic starter
Posted : November 30, 2019 2:15 am
Yeah they're a bit understeery until the car oversteers. It's controllable and predictable but can get annoying at autocross when the front end washes out from being too stiff and oversteer isn't easily controllable for drifts. Again nothing bad, but not ideal. The S Techs behave MUCH better, got to drive a buddies car on Konis and S Techs while mine was on Konis and GF210s and his setup was much better, more neutral, more lively. 
Good luck with picking up something new! 
2000 Toyota MR2 Spyder, 2021 Lexus UX 250h F Sport
Posted : November 30, 2019 5:32 am
To update this, I picked up a set of RSR Ti2000's and have installed them. The Eibachs are now for sale. They have about 25k on them, very little damage to the coating besides the lower spring seat where it is expected. I even padded the spring compressor so I wouldn't damage the coating.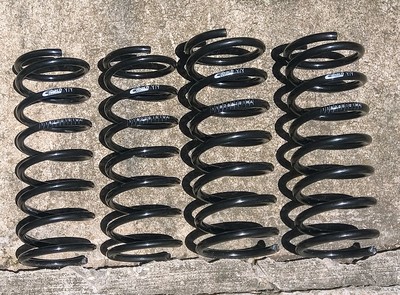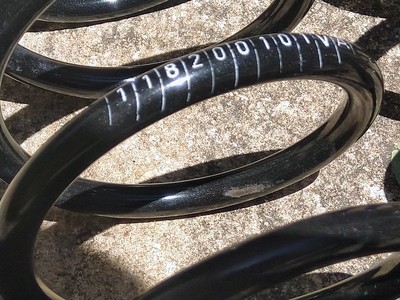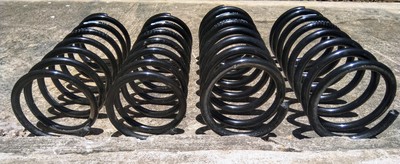 Looking for $130 shipped CONUS
Topic starter
Posted : April 3, 2020 3:32 pm
Finger is on the trigger on these (waiting on my stimulus check 🙄 )....Don't like the height of my stock 01, but dont want another slammed harsh ride like my 2ZZ car that has coil overs.
So, first - can you tell me what struts you went to (to avoid bottoming the struts) and if you cut the bump stops.
Also are these the rough spring secs? (I got from SC table)
Eibach Pro Kit   Spring Rates Front lb/in  80-88 (est.)    Spring Rates Rear lb/in 117 (est.)   Spring Rates Front g/mm 1400 (est.)  Spring Rates Rear g/mm  2100 (est.)      Drop Front inches  1.2      Drop Rear inches 1.2
Thanks
Rdawg
If nothing else - here is your bump
Posted : April 15, 2020 7:56 am
I ran these on a previous car using the KYB's and it road well. Not too low, not too stiff and it got rid of the large wheel well gap.
I just bought these from him but I intend to run Koni's this time around. The KYB's were fine for everyday use but I wouldn't recommend it if you intend to run auto-x or anything demanding.
Posted : April 15, 2020 8:55 am
Thanks for the update and info Wilco, as usual - delay causes me to miss out.
I have some old tiens (somewhere in the garage) for the front - but am thinking they might be stiff.  Didn't know what I would do about the rears - though the torch had come to mind...For heating and bending not cutting. 
So your struts are stock length/application with no ill affects? 
Good luck with the Konis I hear good things.
Posted : April 15, 2020 9:06 am
I had no ill effects on my old car.
Now it had a stock motor and I didn't do any grueling driving with it.
It road like a good quality progressive rate spring.
Eventually I will go with a good coilover kit but for now it will work just fine for the first year out to take to COTA from time to time.
You can still find brand new Springs on Ebay from some wholesalers that have inventory left.
Posted : April 15, 2020 10:33 am
well the car is due for struts too, this might rise on the priority list as it gets warmer A/C fix is currently on top
Posted : April 15, 2020 2:44 pm
Yeah sorry, Wilco just paid for them yesterday. I do not have any other information on the spring rates other than what is available in the SC table. I was using them with Koni's and had no issues, I just wanted to move up to a slightly firmer ride than what these gave me. I can attest to the RSR springs being a fair bit firmer on large movements but being a progressive spring are still quite comfortable on small movements. I was very close to buying a set of Tein's if I hadn't stumbled onto the RSR's.
Topic starter
Posted : April 16, 2020 1:29 am
No worries Mars,
I didn't need more parts in my garage that would have taken a year to actually get on my car.
As I stated above, need struts anyway soon, so I will dig up the Teins in the garage and figure out the rears when I need to.
Thanks for the info on Konis, maybe that will be the next big purchase