1990's Toyota MR2 G-Limited
The 1zz is just a simpler engine and lighter weight.  The 3sgte (turbo) and the 5sfe (NA) engines offered in the USDM MR2s were good engines for their time but they're cast iron blocks, multitude of vacuum lines compared to newer engines, distributor and coil, and timing belt driven.  None of those things are really that bad to some people though.  The timing belt replacement isn't a fun job on the 2nd gens, you could convert to COP ignition from a distributor and I hate chasing vacuum leaks on 30 year old cars with 30 year old vacuum lines.
I like simple and easy to work on when the need arises.  There are a few well sorted 2nd gen turbo models out there though that would make good fair weather cruisers though and wouldn't require any work above standard maintenance though.  It all comes down to what you want out of it though and all of my opinions are based on wanting a 'driver' car.  I don't want a car that only comes out of the garage when the weather is perfect and I just want to drive.  If I want to drive whichever car to work on a rainy and gloomy day, I don't want to worry about having to spend countless hours detailing it afterwards or worrying about replacing it.  I just want to enjoy them when I want without regard for other factors.
Posted : June 21, 2020 12:33 pm
I own a 91 N/A and recently bought the Spyder. Just two completely platforms (mainly due to weight and engine characteristics) and aesthetics (the SW is just beautiful out of the box. A lip and some clean wheels is the most I would do to it). Check out Alex Wilhelm for great suspension tuning options. Wish he was working on the Spyder as well. I do love how easy the Spyder is to work on and how raw it is as previously mentioned. 
The 91 is my daily driver. For a couple, you really barely ever need more space. The trunk is great. I just enjoy trying to keep it clean and original. Any time I think of selling it, I get inside and completely change my mind. Just puts a smile on your face that I don't get from newer cars.
If you have track duty/autocross in mind, make sure it comes with PS (for quicker steering ratio) and ABS (although that's more personal preference). Mine did not, and I was not a fan of the steering on the car. 
Where are you located?
Posted : June 23, 2020 10:06 pm
@mr2zeal Right outside of Florence , Texas. About 25 miles from Ft. Hood. I have NEVER seen an SW20 here. I was looking for an SW20 when I found my first Spyder. But yes, two really different cars! I know I have to have one! Thanks for the heads up on the steering. I was looking at a window sticker (I think a 1991) and I was amazed at some of the prices of options.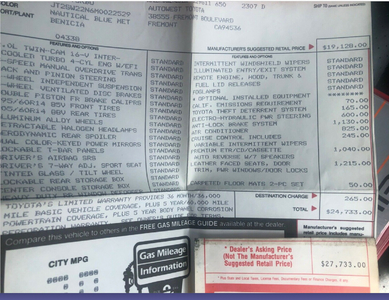 Posted : June 24, 2020 1:07 am
So, you're like 8 miles from me?
Posted : June 24, 2020 8:30 am
So, you're like 8 miles from me?
Do I detect a person who knows where Hwy 195 is?
Posted : June 24, 2020 5:21 pm
Yep.
I'd take 487 to get there.
Posted : June 24, 2020 6:02 pm
Sounds like we need to arrange a Twisted Sisters run....
Posted : June 24, 2020 11:10 pm
That, and @wilcomr-s needs to put his car back together!
Posted : June 25, 2020 11:09 am