The random chat thread for throwing out things that don't matter
So I'm watching Mecum's Auctions on TV the other day. They had a MG Midget, a Fiat 124 Spyder and a VW Beetle. I don't see too much of these on Mecums.
Anyone ever see a MR2, Spyder or otherwise there?
Posted : November 2, 2020 10:50 am
I had a chance to drive my car again yesterday.  I can finally hear my expensive sound system.  The drivers that I installed a few years back were some of the best ones every made in Germany by Kurt Muller and co that I was able to find a set that was sitting for years. The drivers are stiff and take many hours before the break in but I do not drive my car that long to have had that happen until now.  I was deeply disappointed  because they just didn't deliver even though they are considered to be top shelf  and used in SQ competitions. It feels as though they have opened up and match the tweeters at the crossover points. The clarity and detail in the vocals is unreal even though my car is loud mixed in with road noise. Its almost like having headphones on but with the ability to hear everything else. 
 Im sure it doesn't mean much to anyone else since some are too old that they lost their hearing and the youth no longer interested in sound quality. When you have a nice sounding system it makes the drive that much better. 
Posted : November 15, 2020 8:17 am
Ebay gave me 5% bucks for an order so I bought some more coffee from Macaw. Got it a couple days ago. Kona, which I haven't opened yet, and Colombia La Esperanza Geisha. The latter is a light/medium roast, and I love it. Just enough acidity to add an initial crispness to it, a long lasting creamy smooth finish, and a myriad of complex flavors in between. I haven't made a true cold brew yet, but what is brewed hot still tastes great if it's gone cold. I iced down my last cup yesterday and enjoyed it just as much.
Will probably crack the Kona open tomorrow.
Last night a buddy and grilled a whole backstrap from a buck I took down last weekend. Never frozen, simple steak rub and olive oil....  Came out magnificent, sliced into beautifully soft medium rare medallions.... Best piece of meat I've had in years. I'd choose it over a top tier filet mignon without a second thought. Last couple were used for steak and eggs this morning... I am not looking forward to my next meal, when I come back down to reality. 
Posted : November 20, 2020 4:20 pm
Let me know how you like the Kona. It has been my favorite.  It's not wow like JMB but just right with being balanced. 
Posted : November 20, 2020 6:22 pm
 This is it, the last drive of the season. Added  some stable and went for a drive with my other Spyder buddy. 
 As we got on the country roads a head of me there was a Cooper S that wanted to play Toge style. His car was modified because I could hear the blow off valve and crackles and loud pops from the exhaust.  I have to say those things take off quick with lots of low end grunt.  
 I did not follow too close and we did not go too fast over the speed limit because it would be reckless.  From a stop he had the grunt to briskly make distance but soon as I got into lift in first gear he lost steam and I was right on him into second where I had to let off otherwise I would be too close.  There were some steep corners which he could not handle and had to slow down.  I dominated easily and I bet even a stock Spyder in the right hands would have also but not with the acceleration. It was casual for me because I had so much headroom using only 30% but it looks like his suspension was on the edge and he lost his nerve which I admire him backing off so he did not lose control. I think he knew that I knew that he didn't have a chance but I hope it was fun for him all the same. 
Posted : November 22, 2020 10:26 am
The Kona does not disappoint. I was very pleased to cut open the bag and immediately recognise the smell. It's been over 3 years since I smelled it last but It was unmistakable. I think Macaw roasted these beans even better than what I had on the island. Or maybe it's just the level of freshness. Regardless... A nice smooth and smokey dark cup.
I love when I run into other "fast" cars in some twisties. It really brings the truth to light. Even on the rare occasion a car is well sorted all around they usually just keep up or we take turns leading. Most aren't even close to capable. When they are, it's usually a well sorted mustang that can stick with me. Surprisingly for the number of Miatas around very few of them ever want to drive spiritedly. A while back I played with the brand new Miata (with the power upgrade) and a heavily modded Taurus. The Miata and I were neck and neck through the bends, every time we got to a clear straight the Taurus would leave us both in the dust, next set of bends we'd go right past him again. 
Posted : November 23, 2020 11:08 am
Macaw knows how to roast better than those boutique internet roasters which are considered by some to be the best in the country. I think its because they know what they are doing and also know how to source good single origin beans.  Its just amazing how cheap they are compared to everyone else. Excellent business model.   I have another bag of the Ethiopian coffee to finish off before I can get back to Kona which I love and its certainly not overhyped.  
 I think that Mini probably has overly stiff suspension. I noticed that there was almost no give when it hit the corners. Probably another victim of cheap China coilovers.   I know they are top heavy and FWD but having driven a few of them I never remember them being that bad in the handling department. It felt like that guy was uncertain and kind of not committed as he freaked out a little by letting off the gas.  It could also be that our cars are just that much better for this kind of thing and we take them for granted.  The MX-5s are beasts when it comes to handling and I agree its a toss up depending on how they are modified.  
Posted : November 23, 2020 12:46 pm
It is done. I've had the car since I was five, and I'm twenty seven now. I grew up in it. I graduated from the back seat, to the front seat, then finally, to driving it. I put my heart and soul into it, not to mention every penny to my name for years. Like yes, the MR2 is a better car, but that gets logical performance mods. The Corolla received utter love, care, and passion unlike anything I've ever done. And it's a major period of my life over. I'm really sad. But really happy it went to a great owner, who picked her up in his own AE101.
This period of my life is over, onto the next. But I'll never forget her.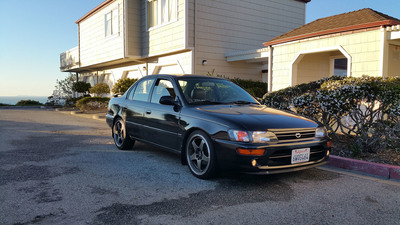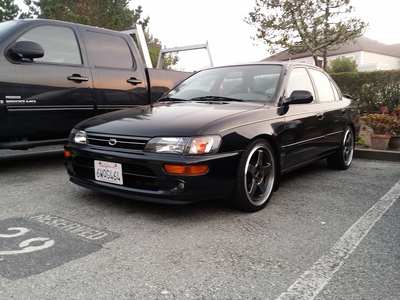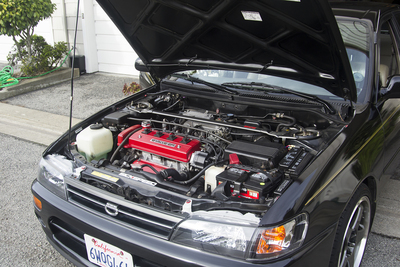 2000 Toyota MR2 Spyder, 2017 Lexus CT200h F Sport
Topic starter
Posted : December 13, 2020 1:30 am
That's a great story from 5 to 27.  Thanks for sharing it.
Posted : December 14, 2020 4:58 pm
Visited a client who was having problems with a motorized roller shade. It was doing all sorts of weird things, like telescoping both ways. Called the manufacturer for advice before taking it down and replacing it, and they claimed it was crooked and needed to be shimmed. Wouldn't listen to me when I said it was straight. So I sent them this photo.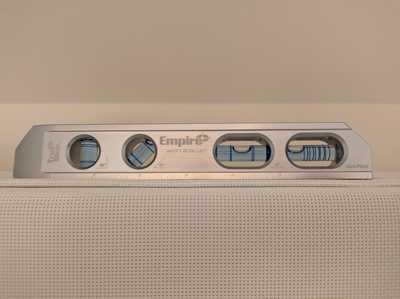 2000 Toyota MR2 Spyder, 2017 Lexus CT200h F Sport
Topic starter
Posted : January 15, 2021 1:02 am
Finially got around to put bidets on my toilets. I have used them when traveling outside US and they are great. mine have both hot water and cold, I just got the hot hooked up to the one that didnt have it. Hot really isn't needed as the water doesn't feel that cold, but it is a little nicer with heat. The one I my wife and use most I put in has heated seat, heated hairdryer. that is hardly needed and more costly, but what the heck my fanny deserves it. 😀  The others have hot and cold and is mixed to control tempterture as you dont want to scald your fanny. The seat attachments aren't that expensive for the base models. Less paper used and a cleaner fanny. who could possibly want more? 😎 
For just cold water it is just a T supplied in the kit, T to the shut off valve already hooked up to toilet. Hot water  a supplied in kit T to the hot water line under the sink. The hot air blower and heated seat pugs into electric outlet for the warm air blower and seat heater. Each accessory step up costs more. Look them up on Amazon. Your fanny will thank you. Just turn around and ask. it.
EDIT forgot the plugged in bidet also glows at night so you don't need to turn on the light. Nothing is too good for MY fanny!
This post was modified 2 months ago 7 times by
grumpy
Blown, it is like lift, only bigger, better, longer, stronger, harder... and that's just the car. The first Rotrex supercharged 2zz Spyder.
Posted : January 18, 2021 7:07 pm
For hot water, how does that work? Usually you have to run the hot tap for a good 15 seconds to get hot water because the water in the lines has gotten cold. 
2000 Toyota MR2 Spyder, 2017 Lexus CT200h F Sport
Topic starter
Posted : January 18, 2021 10:23 pm
on mine and most they have a flush/clean control that you can use to bring the hot water up to the bidet. Or what we do is simply turn on the hot water in sink till theft water comes up from hot water heater. either way works fine. the line from sink to bidet is only a couple feet of 1/4 inch hose. If I had a dozen feet or more to reach bidet I would use the valve in bidet to bring up hot water. But as I said even the cold water surprisingly isn't that cold...or doesn't seem that cold when using just cold. The water in the lines are only room tempter. But if you have been using cold water in the bathroom just before using it might be cold then.
EDIT some of the expensive models that plug in and have a heated seat and blower also have a reserve tank that stores heated water, but if you just run it in the sink or the cleaning jets flush you don't need one more thing that can break down and not work. Just as you don't "need" a heated blower for your bum.
Also there are 2 adjustable cleaning jets that come down to clean you. One is for your backside and one is for ladies front side. Both are adjustable. Also I found it best to adjust the jet stream on the back of your vertical smile and then scoot back to get all of your smile. You can do it the other way if you wish. It would be up to you. I scoot  back and forth several times.
Now I have pretty well run out of  benign words to reference your bum.
This post was modified 2 months ago 3 times by
grumpy
Blown, it is like lift, only bigger, better, longer, stronger, harder... and that's just the car. The first Rotrex supercharged 2zz Spyder.
Posted : January 19, 2021 9:31 am
suit coat made for me by Mrs. Bone # snazzy

 
Between the vest, drink, & curled mustache it's not a look....it's a lifestyle 😉 
Posted : January 19, 2021 8:42 pm