California BAR 2zz reference thread
A repost of the thread posted on advertchat.
Thanks to silversprint, Codename Bil Doe, mrhiguy, MidshipGarage etc. for a wealth of information that i'm compiling here.
California BAR 2zz swap guidelines In general:
USA market ECU and engine from same model year or newer donor (vs your mk3) and in the below certification combinations:
California Certified OEM ECU and Engine (engine and ECU from car originally sold in California) can be swapped into any mk3.
Non-California Certified OEM ECU and Engine can only be swapped into a non-California mk3. (mk3 originally sold outside of California)
no aftermarket EMS permitted
03+ 2zz's have electronic throttle control
Engine position is not regulated. You cannot mix and match manifolds and engines to get the exhaust manifold to clear the subframe. You potentially can adjust the engine mounting positioning vertically/angle to lessen the amount that is required to be cut from the OEM subframe, but likely not by a lot.
No modification is allowed for the engine.
as a side note though, even though the BAR is more thorough than a star station, they won't be opening up the head of the engine or dismantling the whole thing, so mild things that don't throw codes nor have telltale traits (like lopey idle) on the stock 2zz ecu like upgraded valvesprings, upgraded oil pump, ported heads, mild cams (only profile changes are on the Lift lobe), forged rods and pistons, crank scrapers, and (possibly) 1.93L stroker cranks may still go right on through.
Un-modified OEM 2zz exhaust manifold required:
Subframe notch required. for safety reasons, it's recommended to reinforce by welding steel plates to the subframe when taking car to BAR. alternatively, it was suggested to use spacers to space the subframe down to avoid cutting the subframe (MidshipGarage).
Custom Midpipe Required. Will require measurements from a donor vehicle's cat pipe. (cat pipes from Vibe/Matrix/Corolla and celica presumably have slightly different linear lengths. see midpipe reference section below)
downstream length of the 2zz oem cat from the header flange can be changed within +/- 12 inches.
length from cat to the two O2 sensors can be changed within +/- 1 inches.
MUST use OEM 2zz cat
Inner diameter of midpipe must be OEM diameter (2.25").
no emissions requirements after last O2 sensor after cat. Exhaust design is therefore free, but common sense may help to avoid annoying the BAR refs. I don't think they'd appreciate a 6 inch straight pipe after the last O2
2004+ model year cars require Air Injection. (avoid 04+ cars if you want a 2zz)
1zz exhaust manifold and cat pipe not accepted
*Above two pictures are of CodenameBillDoe's exhaust which is a BAR legal k20 swap and not 2zz. Gives an example of the kind of work expected. Below is stock 2zz header on a 2zz and pictures of MidshipGarage's 2zz Bar certified exhaust setup.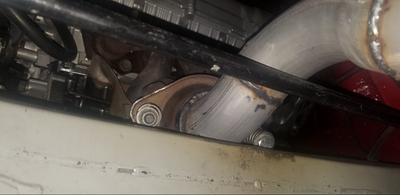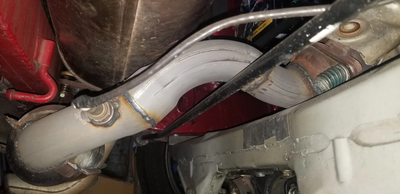 Unmodified OEM intake manifold and throttle body required and as for intake pipes:
only CARB-EO aftermarket intake pipes matching model and year with the engine will be accepted.
No modification is permitted to any intake pipe (must be used as-found out of the box).
1zz intake pipe not accepted
EVAP, PCV, IAC, etc. have generally been less onerous to pass. Be sure to hook these up to function as OEM. Not sure if BAR will disassemble interior to check evap box. Celica gts evap canister is different from the spyder, so keep in mind.
Transmission:
must be Manual if donor ECU is from a manual transmission car, must be automatic if donor ecu is from an automatic transmission car
brand of transmission is not usually inspected, neither is number of gears, nor origin of transmission.
Additional Considerations:
Vibe/Matrix/Corolla 2zz:
CARB EO Aftermarket intakes from these are easier to fit  than the common "U" shaped aftermarket intakes for Celica 2zz.
Celica GTS 2zz:
Aftermarket Intake option (instead of oem intake) that may be able to avoid firewall cutting.
Weapon R Dragon aluminum polished short ram intake. (00-01 engine model years only)
P/N: 805-121-101
CARB Executive Order: D-489-1
Injen  Cold Air Intake (00-04 engine model years only)
P/N: RD2046P
CARB Executive Order: D-670-15
K&N Typhoon intake (00-03 engine model years only)
CARB Executive Order: D-476-8
Midpipe reference:
"Here are the measurements you want to follow.
1. Flange to first o2 sensor ~13 Inches
2. Flange to the Front of the catalyst ~17 Inches
3. Flange to the second o2 sensor ~30.5 inches " - mrhiguy, 2019
Please note: the above measurements are the same for Celica/Vibe/Matrix/Corolla
Reference links:
https://www.spyderchat.com/threads/california-smog-engine-swap-beware.154556/
https://www.spyderchat.com/threads/help-passing-california-bar-with-2zz.154409/
https://www.spyderchat.com/threads/2zz-swap-california.98129/
https://www.spyderchat.com/threads/image-of-2zz-swap-with-stock-2zz-manifold-bolted-on.152099/
Appendix E: Engine change guidelines published by BAR.
Thanks for compiling this.  
Posted : October 30, 2019 1:29 pm
Consider another alternative to clearing the rear member because it's so close to clearing - spacing it down.
Posted : January 3, 2020 1:32 am
thanks Bill. I've added that method to the original post along with some pictures from MidshipGarage's post.
Posted : January 4, 2020 12:19 am
Cool. You may also want to add that the exhaust post cat is completely free and not regulated by smog.
I only say this because we both used the ridiculously huge stock muffler which really gets in the way. It is not necessary for CARB legality.
Posted : January 4, 2020 9:28 pm
i may have alluded to it indirectly, but yeah. i'll add that.
i doubt BAR would appreciate a straight pipe after the last o2 though lol
Posted : January 6, 2020 9:45 pm
You might want to add plug and play harnesses are not allowed.
I am going to go through bar as soon as I get the midpipe, spacer, and intake from midshipgarage. 
Posted : September 11, 2020 4:08 am
What does that mean? We have to just pin and unpin the connectors?
Posted : September 15, 2020 4:39 pm
You might want to add plug and play harnesses are not allowed.

I am going to go through bar as soon as I get the midpipe, spacer, and intake from midshipgarage. 
This is not true. You can use any harness or wiring you want. This is not controlled by smog. You cannot alter the stock ecu internals or the tune. You also cannot have anything plugged into the obd2 connector while being tested. You CAN have two separate obd2 connectors. The one for testing must clearly be labeled.
You also can have a straight pipe after the 2nd O2. BAR inspects for smog legality only, not sound. 
Posted : December 18, 2020 11:32 pm
Posted : December 29, 2020 1:49 am