More Parking Brake Cable Replacement tips
I finally did the dreaded parking brake cable job today.  What a hateful exercise!  I learned a few things that may help others.  
Don't do the job with a full tank, like I did.  It's really heavy when it's full!
There is some play in the hoses and lines on top of the tank, to allow lowering the tank about 6 inches.  I just unplugged the two connectors at the fuel pump.
The four attach bolts are nice long bolts that help with lowering.
There are hard aluminum AC lines that wrap around the Right side of the gas tank.   There is a hard aluminum radiator line that wraps around the Left side of the gas tank.   Both lines will move down and out of the way enough to lower the tank 6 inches, IF you loosen all the clamps and clips holding those hard lines to the car.   You need to loosen the clips going forward in the center tunnel, to allow the aluminum lines to move.
You can slide the tank right and left by about one inch.  That will make a little more room to remove the middle cable clamps on left and right.   
The forward cable clamps are hidden, bolted to the gas tank bulkhead behind the seats.  The right side is accessible through the fuel pump door.  The left side you can reach through the same hole, you just have to work blind.
The forward rubber grommets are awful.  Tough on the fingertips to install.
I replaced the gas tank vent and grommet.   It's trapped until you lower the tank.  I found a YouTube video ( By 'Fix it Angel" ) that showed how the plastic latch on the vent tube works.
I installed the right cable on the left side by mistake.  Easy to remedy since the only difference is the middle clamp.  Just unbend and swap.
The center clamps are best removed before you start lowering the tank.   But it does help if you unbolt the tank and slide it out of the way  (about 1 inch)
to make a little more room.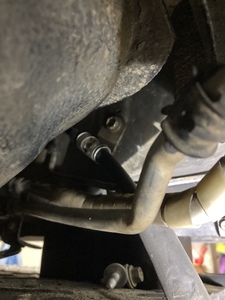 Loosen the snaps and clamps on the hard lines all the way up into the tunnel.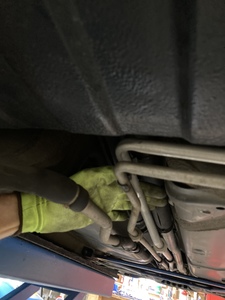 The four gas tank bolts are nice and long.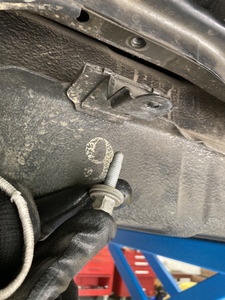 The forward clamp is the worst, especially the LH side.   Best access is from the fuel pump door, but you have to work blind.  The cable clamp goes under the brake line clamp.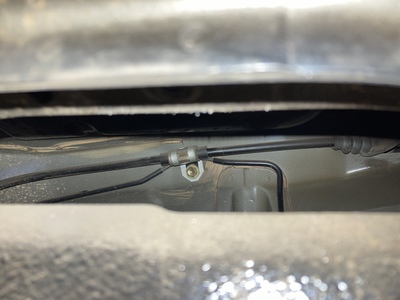 From the left: firewall grommet, Forward clamp (bolted to the gas tank bulkhead), Center clamp (you can see it without lowering the tank), aft clamp is the donut clamp at the rear suspension.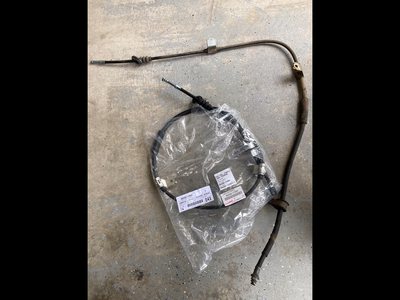 This topic was modified 1 week ago 5 times by
cyclehead
I make Amateur Armrests - see the Commercial Forum. I also have Convex Mirrors and SMT repair seals available.
Posted : September 16, 2020 9:05 pm