How to add steering wheel buttons for radio control.
  This is just a brief synopsis on how to add steering wheel buttons on the cheap with an aftermarket head-unit.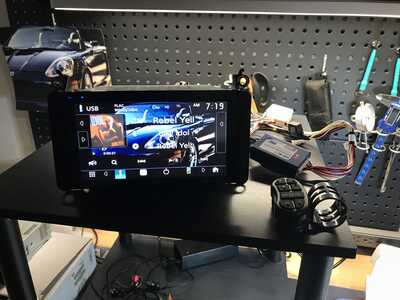 Most aftermarket head units from the last 10 years or so have a way to integrate steering wheel button control using modules that translate the signal. Most cars are supported and they have gotten better over time.  
 Because our car never had buttons on our steering wheel it is unfortunate but it doesn't have to be.  These newer double din units with navigation are cool but for a car like ours its in the wrong place and to add to the mess its very hard to see or use the small buttons especially if they are on the screen. This was my frustration going with one of these nav units because its just too dangerous to use while driving for performing tasks as simple as changing the volume level or changing the track. It was a horrible experience but I found a way to fix that.  
  You will need three items. 
  1. Head unit that excepts steering wheel controls. Most all of the major brands have them even the cheap stuff. 
  2. PAC SWI-RC-1 Steering wheel control interface. This does the translation from the buttons to the head unit. 
https://www.amazon.com/gp/product/B004HKBY8G/ref=ppx_yo_dt_b_asin_title_o04_s00?ie=UTF8&psc=1
 3. Allomn Wirless Steering Wheel remote.  This is very well built and works great. It uses a small watch battery that can be replaced and comes with a blue tooth receiver that then hooks up to the PAC. The PAC hooks up to you head unit and you are done. You will need to know how to wire it so read all instructions and use quality crimp connectors. 
https://www.amazon.com/gp/product/B06Y5YQZ7N/ref=ppx_yo_dt_b_asin_title_o04_s01?ie=UTF8&psc=1
 After it is wired up you will have to throw the right dip switch for your model of head unit and do the programing of the buttons.
https://catalog.pac-audio.com/index.php?controller=attachment&id_attachment=1716
Topic starter
Posted : April 1, 2021 4:44 pm